Do you think domestic violence is satanic? Why or why not? Did you know the Pope said it's "almost satanic"? I was shocked when I read that. I don't understand. If domestic violence isn't satanic then what is? Maybe I need to ask, what is domestic violence? Or possible, what is satanic? Do I have a wrong idea about one or both of them? I don't think so!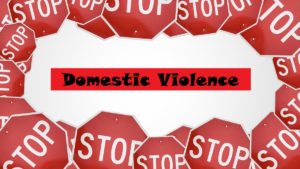 Here's the extracted quote from Reuters.
Pope Francis on Sunday said that acts of violence against women are "almost satanic" during a conversation including a woman who fled her abusive husband, Reuters reported.
I read that and immediately thought, what do you mean almost satanic? How is domestic violence, whether it's against women or children and sometimes even men, how is it not satanic? And if it's not satanic, then what is satanic? And what do you call domestic violence if not that?
What did the Pope say?
Here's what the Pope said, as reported on msn.com from an article by The Hill titled Pope says domestic violence 'humiliating' and 'almost satanic'
"The number of women who are beaten and abused in their homes, even by their husbands, is very, very high," the pontiff said to Giovanna, a mother of four who was a victim of domestic violence.
"The problem is that, for me, it is almost satanic because it is taking advantage of a person who cannot defend herself, who can only (try to) block the blows," the pope said on Italy's TG5 network on Sunday evening, in a conversation with four people of varying backgrounds, according to Reuters.
"It is humiliating. Very humiliating," he added.
Before I go any further, I need to add one more thing from the article.
Pope Francis has spoken out several times against domestic violence during the pandemic, Reuters noted.
So the Pope does speak out against domestic violence. And that's good. My issue is that the Pope is the leader of the Roman Catholic Church. Accurate numbers are hard to come by since the reported number of Catholics ranges from 1 to 1.5 billion in the world. Percentage-wise, I found numbers from 16% to 25% of the world's population.
However, while accurate numbers are in question, the sheer volume means the Pope should have a lot of sway over the beliefs of Catholics. I get it that it's not always true. Especially for controversial topics like abortion. But how many Catholics will even try to argue that domestic violence is a good thing? The same is undoubtedly true for Protestant Christians as well.
Domestic violence shouldn't have Christian supporters!
Just take a simple concept of love from Jesus. Without going any deeper at all, no Christian can honestly say Christianity, in any flavor, says domestic violence is OK. No one! Just check out all the underlined words below, and I dare you to say Domestic violence is condoned by God.
1Jn 4:7 Dear friends, let us love one another, for love comes from God. Everyone who loves has been born of God and knows God. 8 Whoever does not love does not know God, because God is love. 9 This is how God showed his love among us: He sent his one and only Son into the world that we might live through him. 10 This is love: not that we loved God, but that he loved us and sent his Son as an atoning sacrifice for our sins. 11 Dear friends, since God so loved us, we also ought to love one another. 12 No one has ever seen God; but if we love one another, God lives in us and his love is made complete in us.
1Jn 4:13 We know that we live in him and he in us, because he has given us of his Spirit. 14 And we have seen and testify that the Father has sent his Son to be the Savior of the world. 15 If anyone acknowledges that Jesus is the Son of God, God lives in him and he in God. 16 And so we know and rely on the love God has for us.
God is love. Whoever lives in love lives in God, and God in him. 17 In this way, love is made complete among us so that we will have confidence on the day of judgment, because in this world we are like him. 18 There is no fear in love. But perfect love drives out fear, because fear has to do with punishment. The one who fears is not made perfect in love.
1Jn 4:19 We love because he first loved us. 20 If anyone says, "I love God," yet hates his brother, he is a liar. For anyone who does not love his brother, whom he has seen, cannot love God, whom he has not seen. 21 And he has given us this command: Whoever loves God must also love his brother.
Do you see what I mean? There's just no way Domestic Violence can be construed as OK, in any fashion, by a Christian.
Unless …
As I said at the top, the only way domestic violence isn't actually, not almost, satanic – is if I don't understand one of the two concepts. The words Domestic Violence aren't in the Bible, so let's look at both DV and satanic at dictionary.com
Domestic Violence definition
acts of violence or abuse against a person living in one's household, especially a member of one's immediate family.
Satanic definition
adjective
of Satan.

characteristic of or befitting Satan; extremely wicked; devillike; diabolical.
The unless test fails
That "unless" test just failed. God is love. 20 If anyone says, "I love God," yet hates his brother, he is a liar. In other words, is not from God.
Note: I'm talking about an act of violence here. I'm not talking about being saved. Every one of us has done things that are far from loving. Especially far from God's kind of love.
So it's the act of Domestic Violence that's not from God.
How did I get that conclusion? Look back at the definition of satanic: characteristic of or befitting Satan. Remember, Satan's goal is to take us away from God. Any act that isn't done from love takes us away from the love of God. Therefore, every act of Domestic Violence, not being from God, is satanic. Not almost. It really is.
Am I overstating the case for what is satanic?
I'm sure someone out there's saying something like – sure, Domestic Violence is bad. Maybe it's even satanic. But isn't this a slippery slope where everything that's not done in the love of God is satanic?
Do you know my answer? Yes! It absolutely is a slippery slope. Extremely slippery. And Satan would be incredibly happy for you to think it's not.
Don't believe it? Check out the passage below, especially verse 17 at the end.
I know – "rules" is like a four-letter word these days. Rules are for losers. And rules are for suckers.
Oh, but, we're forgetting something. Matthew. Chapter 5. Right after the beatitudes. I'm not going to do my usual thing here and put all the passages, in their entirety, and then explain them. Except for this first one. After that, I'm going to do something I don't remember ever doing in more than 10 years of writing. I'm going to extract just some section headings from the NIV and a couple verses from each of them. But it's enough. In fact, more than enough.
Mt 5:13 "You are the salt of the earth. But if the salt loses its saltiness, how can it be made salty again? It is no longer good for anything, except to be thrown out and trampled by men.
Mt 5:14 "You are the light of the world. A city on a hill cannot be hidden. 15 Neither do people light a lamp and put it under a bowl. Instead they put it on its stand, and it gives light to everyone in the house. 16 In the same way, let your light shine before men, that they may see your good deeds and praise your Father in heaven."
People notice what other people do. It's a fact of life. Here's why that's important for Christians.
Christians are supposed to be noticed!

You are the light of the world. A city on a hill cannot be hidden.

But let's be honest here. While a brightly lit city on a hill can't be hidden, an individual person certainly can be. To be even more honest – I used to be one of these "hidden" Christians". Obviously, not anymore. But we can hide the fact that we're Christian. Jesus the namesake of our religion, doesn't want us to do that!
When we are known as Christians, one of two things can happen.

We can live like Christians, and be the

salt

and

light

we're supposed to be. That we promised Jesus we would be! In this case, we have fulfilled the promise we made to God.
We can live like anything but Christian. That could be just like everyone else. It could even be worse than most. And in that case, once again, promise broken. Sad to say, but I've been there as well. It was years ago. Very upset/angry at God. However, God's waiting for us to return to Him, forgive us, and welcome us back.
So, let's see what Paul wrote about "rules for holy living".
Col 3:1 Since, then, you have been raised with Christ, set your hearts on things above, where Christ is seated at the right hand of God. 2 Set your minds on things above, not on earthly things. 3 For you died, and your life is now hidden with Christ in God. 4 When Christ, who is your life, appears, then you also will appear with him in glory.
This is a major change, as indicated by Set your minds on things above, not on earthly things. And if you think that said something, notice the part about you died, and your life is now hidden with Christ in God.
But what does it mean? How can we be alive, but dead? And if we're supposed to be seen as the city on the hill, how can we be hidden? It sounds like there's a contradiction here. But there isn't. Once again, there's something lost in the translation.
3:3 "you have died" This is another metaphor based on baptism to describe believers' new standing in Christ (cf. Rom. 6:1–11; Col. 2:11–12). Believers are dead to sin and alive to God! They were admonished to recognize their new standing in Christ (cf. v. 5; Eph. 2:5–6) and emulate Him (cf. 2 Cor. 5:14–15; Eph. 5:1–2; 1 John 3:16). [1]Utley, R. J. (1997). Paul Bound, the Gospel Unbound: Letters from Prison (Colossians, Ephesians and Philemon, then later, Philippians): Vol. Volume 8 (p. 40). Bible Lessons International.
While it sounds weird to someone who knows little to nothing about Christianity, the concept of being dead, but alive – born again – is one of the core beliefs. The references included in the excerpt give more information,
"hidden" This is a PERFECT PASSIVE INDICATIVE. Believers have died (in Christ) and have been and continue to be hidden in God. The mystery religions used this word to refer to initiation rites. This concept of hiddenness could relate to (1) protection, or (2) the fully shared glory of believers with Christ not yet visible to the world (cf. v. 4). [2]Utley, R. J. (1997). Paul Bound, the Gospel Unbound: Letters from Prison (Colossians, Ephesians and Philemon, then later, Philippians): Vol. Volume 8 (p. 40). Bible Lessons International.
We see here that "hidden" doesn't mean invisible to the naked eye. It's about the difference between physical and spiritual things. Plus, there's the element of protection. But even here, it's about spiritual protection, as opposed to physical.
In any case, these verses come down to showing even more about the change that must take place when we become Christians. If we don't focus more on the way Jesus taught us to live, don't try to follow His example of how to live, we should seriously examine our commitment to Him. We must pray and ask ourselves if we are truly followers of Christ.
Col 3:5 Put to death, therefore, whatever belongs to your earthly nature: sexual immorality, impurity, lust, evil desires and greed, which is idolatry. 6 Because of these, the wrath of God is coming. 7 You used to walk in these ways, in the life you once lived. 8 But now you must rid yourselves of all such things as these: anger, rage, malice, slander, and filthy language from your lips. 9 Do not lie to each other, since you have taken off your old self with its practices 10 and have put on the new self, which is being renewed in knowledge in the image of its Creator. 11 Here there is no Greek or Jew, circumcised or uncircumcised, barbarian, Scythian, slave or free, but Christ is all, and is in all.
Here are some examples of some of the things we need to get rid of in our life. In Christian-speak, these things must die within us and be replaced with things like those Paul has in the next few verses.
Col 3:12 Therefore, as God's chosen people, holy and dearly loved, clothe yourselves with compassion, kindness, humility, gentleness and patience. 13 Bear with each other and forgive whatever grievances you may have against one another. Forgive as the Lord forgave you. 14 And over all these virtues put on love, which binds them all together in perfect unity.
That short list is reminiscent of the fruit of the Spirit. These are the things that should grow in us and be seen in us by others, as we grow in our faith and we give more of our life over to Jesus. You know – the parts about dying and being born again?
Here's what Paul wrote about the fruit of the Holy Spirit for those that don't remember the list.
Gal 5:16 So I say, live by the Spirit, and you will not gratify the desires of the sinful nature. 17 For the sinful nature desires what is contrary to the Spirit, and the Spirit what is contrary to the sinful nature. They are in conflict with each other, so that you do not do what you want. 18 But if you are led by the Spirit, you are not under law.
Gal 5:19 The acts of the sinful nature are obvious: sexual immorality, impurity and debauchery; 20 idolatry and witchcraft; hatred, discord, jealousy, fits of rage, selfish ambition, dissensions, factions 21 and envy; drunkenness, orgies, and the like. I warn you, as I did before, that those who live like this will not inherit the kingdom of God.
Gal 5:22 But the fruit of the Spirit is love, joy, peace, patience, kindness, goodness, faithfulness, 23 gentleness and self-control. Against such things there is no law. 24 Those who belong to Christ Jesus have crucified the sinful nature with its passions and desires. 25 Since we live by the Spirit, let us keep in step with the Spirit. 26 Let us not become conceited, provoking and envying each other.
Finally, Paul brings this thought to a conclusion.
Col 3:15 Let the peace of Christ rule in your hearts, since as members of one body you were called to peace. And be thankful. 16 Let the word of Christ dwell in you richly as you teach and admonish one another with all wisdom, and as you sing psalms, hymns and spiritual songs with gratitude in your hearts to God. 17 And whatever you do, whether in word or deed, do it all in the name of the Lord Jesus, giving thanks to God the Father through him.
---
Passages to show differences between what we think and what Jesus wants
The passages are all from the Sermon On The Mount. It's pretty much a statement of what Jesus tells us we should try to be if we truly want to follow Him. As I said, there will be little more than the passage and a very brief statement about it. There are so many things I want to do, but I did make a note to write something with a deeper explanation of most, if not all of these.
So let's look at the next passages in Matthew, keeping everything we've read and trying to apply them to our question of whether Domestic Violence is satanic.
---
5:25, 26 pp — Lk 12:58, 59
Mt 5:21 "You have heard that it was said to the people long ago, 'Do not murder, and anyone who murders will be subject to judgment.' 22 But I tell you that anyone who is angry with his brother will be subject to judgment. Again, anyone who says to his brother, 'Raca,' is answerable to the Sanhedrin. But anyone who says, 'You fool!' will be in danger of the fire of hell.
…
All three of the things in verse 22 seem to be pretty much the same to us when we read them today in English. In fact, they aren't. There are issues surrounding righteous versus unrighteous anger. There are also differences between attacking the mind of a person or their character. So what Jesus said actually covers a variety of things.
When we consider Domestic Violence in this light, there are no excuses. Plus, it touches every part of a person's being – physical, emotional, body, mind, and the very essence of who the victim is. What do you think? In light of what Jesus said about murder, is Domestic Violence from God or from Satan?
---
Mt 5:27 "You have heard that it was said, 'Do not commit adultery.' 28 But I tell you that anyone who looks at a woman lustfully has already committed adultery with her in his heart. 29 If your right eye causes you to sin, gouge it out and throw it away. It is better for you to lose one part of your body than for your whole body to be thrown into hell. 30 And if your right hand causes you to sin, cut it off and throw it away. It is better for you to lose one part of your body than for your whole body to go into hell."
It's sad, but it feels like we don't consider adultery to be any big deal these days. Maybe not even a little deal. We see it so much in movies and on TV. It starts to feel like "everyone does it". It's normal. But it's not.
Ultimately, at least for some people, when it happens to them, then it becomes a big deal. Unfortunately, by then it's too late. Marriages are torn apart. IF there are kids, their lives get messed up. Lives are destroyed. Even if the adultery is only in our heads. What do you think? In light of what Jesus said about adultery, is Domestic Violence from God or from Satan?
---
Mt 5:31 "It has been said, 'Anyone who divorces his wife must give her a certificate of divorce.' 32 But I tell you that anyone who divorces his wife, except for marital unfaithfulness, causes her to become an adulteress, and anyone who marries the divorced woman commits adultery.
This is even less of an issue for most people today than adultery is. And yet, Jesus tells us that divorce, except in that one case, leads to adultery. BTW, I think we also need to remember that today's culture is very different than it was two thousand years ago. Divorce isn't always initiated by men anymore. This one cuts both ways today.
As with adultery, divorce often ends up with really messed up lives. It's can happen for both the husband and the wife, as well as any kids that might have been born to them. What do you think? In light of what Jesus said about divorce, is Domestic Violence from God or from Satan?
---
Mt 5:33 "Again, you have heard that it was said to the people long ago, 'Do not break your oath, but keep the oaths you have made to the Lord.' 34 But I tell you, Do not swear at all: either by heaven, for it is God's throne; 35 or by the earth, for it is his footstool; or by Jerusalem, for it is the city of the Great King. 36 And do not swear by your head, for you cannot make even one hair white or black. 37 Simply let your 'Yes' be 'Yes,' and your 'No,' 'No'; anything beyond this comes from the evil one."
This one is so problematic today. There are armies of lawyers whose sole existence is to make – and break – contracts all over the place. For so many people, their word means next to nothing. Even in court, where we do literally take an oath – do they still use a Bible? – there are so many high profile cases where people think nothing of lying.
I do want to point out something else in this passage:
Simply let your 'Yes' be 'Yes,' and your 'No,' 'No'; anything beyond this comes from the evil one.
Throughout the passages we're looking at, I give you only two choices. Is Domestic Violence from God? Or is it from Satan? Especially when the individual passage has an impact on our own lives because we're the ones who did that particular thing, we probably want there to be a third option. Maybe something like, "Hey! Stuff happens!"
But here, Jesus tells us that there are only two choices. At least, only two choices for those of us who claim to follow Him. And so, once again: What do you think? In light of what Jesus said about oaths, is Domestic Violence from God or from Satan?
---
Mt 5:38 "You have heard that it was said, 'Eye for eye, and tooth for tooth.' 39 But I tell you, Do not resist an evil person. If someone strikes you on the right cheek, turn to him the other also. 40 And if someone wants to sue you and take your tunic, let him have your cloak as well. 41 If someone forces you to go one mile, go with him two miles. 42 Give to the one who asks you, and do not turn away from the one who wants to borrow from you."
I don't even know what to do with this one. I really need to check out the wording from the original text. And the culture. I know there are some specific things here that were particular to the times. Do not resist an evil person sounds like we'd have a world where evil just runs free everywhere. Sometimes these days, it really does feel like that. Especially here in the U.S. where so many guns are around, and weapons made for war are carried around in the open and used to commit mass murders.
I get the eye for an eye, and I understand some of the specific instances. But honestly, I just don't know enough – yet – to go any further with this one.
---
Mt 5:43 "You have heard that it was said, 'Love your neighbor and hate your enemy.' 44 But I tell you: Love your enemies and pray for those who persecute you, 45 that you may be sons of your Father in heaven. He causes his sun to rise on the evil and the good, and sends rain on the righteous and the unrighteous. 46 If you love those who love you, what reward will you get? Are not even the tax collectors doing that? 47 And if you greet only your brothers, what are you doing more than others? Do not even pagans do that? 48 Be perfect, therefore, as your heavenly Father is perfect."
Here's yet another one we have trouble with. Whether it's politics, abortion, LGBT issues, Etc. Christians seem to have forgotten this one. We talk about "hate the sin, love the person". But do we really succeed in doing that? All too often, I fear the answer is no.
Each of the items above is linked to something I wrote about that topic. If you're curious about what's in them, I encourage you to click them and check them out. Either way: What do you think? In light of what Jesus said about love for enemies, is Domestic Violence from God or from Satan?
---
Conclusion – Do you think domestic violence is satanic?
Well, there we have it. We've reached the end of my examples of things Jesus said that I believe we should prayerfully consider, and then use them to guide us in other areas.
So – one final time: What do you think? In light of what Jesus said about the things above, is Domestic Violence from God or from Satan? While non-Christians can choose whatever they want for an answer, for us Christians there's only one answer that's true. It's from Satan.
Therefore, I still must conclude that the Pope didn't quite get it right when he said Domestic Violence is almost satanic. It is satanic. Period.
---
Image by ar130405 from Pixabay
Domestic Violence text added by me.
---