Don't start the day without a plan.  It's the second in a series of traits for successful people in the secular world that we're going to look at.  However, we're going to see how these same traits can be applied to becoming a "successful" Christian.  Someone who not only has an idea what Christianity is really about, but who also lives it.  Finally, who also does the Great Commission and not what Dallas Willard calls the Great Omission.
Don't settle for less, #02: don't start the day without a plan is article #4 in the series: Settling for less. Click button to view titles for entire series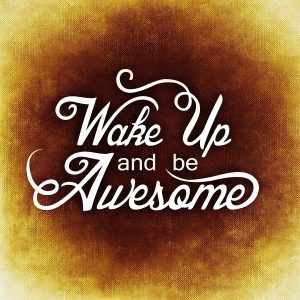 With that in mind, here's the second, from 23 Things Successful People Never Do on bestlifeonline.com: Don't start the day without a plan.
Your chance at success starts from the first moments of your day. Successful people don't just go where the wind takes them every morning—they decide what to direct their energy toward, and they follow through throughout the day.
"Outlining your day is essential to ongoing consistent success," says Erica Latrice, a career and business development coach. "Without a plan for the day, it's easy to get sucked into time drainers like checking your email nonstop, social media scrolling, and tackling other people's emergencies while putting your priorities on the back burner."
Don't start the day without a plan
Don't start the day without a plan.  Awesome idea.  You may be familiar with the saying – failing to plan is planning to fail.  More words of wisdom.  From the secular world.
The first question, whether it be for a Christian or non-Christian, is what are we planning for?  What's the overall number one goal?  Obviously, we're going to look at this from the point of view of a Christian.  Here's a hint.  The overarching goal is not to get to Heaven.  At least, not only to get to Heaven.  Yes, Heaven is the ultimate destination.  However, there's a journey along the way there.  And it's that journey along with the reason for the journey that's most important.
Here are three passages to help define what we're planning for.
don't start the day without a plan – passage #1
Jn 3:16 "For God so loved the world that he gave his one and only Son, that whoever believes in him shall not perish but have eternal life. 17 For God did not send his Son into the world to condemn the world, but to save the world through him. 18 Whoever believes in him is not condemned, but whoever does not believe stands condemned already because he has not believed in the name of God's one and only Son. 19 This is the verdict: Light has come into the world, but men loved darkness instead of light because their deeds were evil. 20 Everyone who does evil hates the light, and will not come into the light for fear that his deeds will be exposed. 21 But whoever lives by the truth comes into the light, so that it may be seen plainly that what he has done has been done through God."
Jn 3:16 "For God so loved the world that he gave his one and only Son, that whoever believes in him shall not perish but have eternal life.
This is probably the most famous verse in the Bible.  As such, I expect it's also high up on the list of verses that express what people are looking for when they become Christian.  The love of God.  Eternal life with Him.
The thing about this verse is the importance of understanding what "believes in him" actually means.  It's not just saying "I believe".  The words Jesus used, and indeed everything He taught, points to more than what we think of today when we hear the word "believe".  Jesus taught that we must believe so much that we want to actually do the things He talked about.  Try to live the kind of life He did.
In an effort to keep these "Don't settle for less" discussions relatively short, I won't go into further detail here.  However, I do encourage you to check out Are we supposed to Believe God, Believe in God or Follow God?
don't start the day without a plan – passage #2
Of course, there are other verses as well.  The passage that first got my attention, way back in grade school is the passage below.
7:7-11 pp — Lk 11:9-13
Mt 7:7 "Ask and it will be given to you; seek and you will find; knock and the door will be opened to you. 8 For everyone who asks receives; he who seeks finds; and to him who knocks, the door will be opened.
Mt 7:9 "Which of you, if his son asks for bread, will give him a stone? 10 Or if he asks for a fish, will give him a snake? 11 If you, then, though you are evil, know how to give good gifts to your children, how much more will your Father in heaven give good gifts to those who ask him! 12 So in everything, do to others what you would have them do to you, for this sums up the Law and the Prophets."
Whatever your verse is, it may or may not change as we go along in life.  As we learn more, grow in our faith, have different experiences, we'll certainly learn more about God.  As a result of that, we'll find other reasons to want to spend eternity with Him.  Whether that changes our overarching goal or not – that's an individual thing.
For me, I've definitely extended the reasons I want to follow God and experience eternity with Him.  Having said that, my number one is still eternity with a Father who loves me.
don't start the day without a plan – passage #2
Finally, let's look at something John wrote to try to tie together the John 3:16 passage with your own personal one.
1Jn 4:7 Dear friends, let us love one another, for love comes from God. Everyone who loves has been born of God and knows God. 8 Whoever does not love does not know God, because God is love. 9 This is how God showed his love among us: He sent his one and only Son into the world that we might live through him. 10 This is love: not that we loved God, but that he loved us and sent his Son as an atoning sacrifice for our sins. 11 Dear friends, since God so loved us, we also ought to love one another. 12 No one has ever seen God; but if we love one another, God lives in us and his love is made complete in us.
No – we don't necessarily have to literally, physically die to show our love for others.  However, our plan for each day should include, if they are known, specific things we can do to show that love.  Obviously, that's not something which will be showing up every day for most people.
But we certainly can have, as part of our daily plan, reminders to watch for such opportunities.  Beyond just watching for them, we also need to have time for them when the opportunity does arrive.  That means flexibility.  Priorities.  Prayers – to both talk to and listen to God.
1Jn 4:13 We know that we live in him and he in us, because he has given us of his Spirit. 14 And we have seen and testify that the Father has sent his Son to be the Savior of the world. 15 If anyone acknowledges that Jesus is the Son of God, God lives in him and he in God. 16 And so we know and rely on the love God has for us.
Here's that thing about more than just believe.  When we acknowledge (and really mean it, as opposed to just saying some words) God is in us.  The Holy Spirit is in us.  How then can we not do something with what we believe?  And then, how can we not include those things in our daily plan?
God is love. Whoever lives in love lives in God, and God in him. 17 In this way, love is made complete among us so that we will have confidence on the day of judgment, because in this world we are like him. 18 There is no fear in love. But perfect love drives out fear, because fear has to do with punishment. The one who fears is not made perfect in love.
No, living the Christian life isn't easy.  We will be doing things beyond our normal comfort zone.  But God is with us.  So we shouldn't be afraid to include Him in our daily plan.
1Jn 4:19 We love because he first loved us. 20 If anyone says, "I love God," yet hates his brother, he is a liar. For anyone who does not love his brother, whom he has seen, cannot love God, whom he has not seen. 21 And he has given us this command: Whoever loves God must also love his brother.
Once more time, how can we not include time in our daily plan for the things that God presents for us to accomplish?
All this hopefully makes sense.  And it really should.  After all, Jesus spelled it out quite nicely.
Mt 28:16 Then the eleven disciples went to Galilee, to the mountain where Jesus had told them to go. 17 When they saw him, they worshiped him; but some doubted. 18 Then Jesus came to them and said, "All authority in heaven and on earth has been given to me. 19 Therefore go and make disciples of all nations, baptizing them in the name of the Father and of the Son and of the Holy Spirit, 20 and teaching them to obey everything I have commanded you. And surely I am with you always, to the very end of the age."
Don't start the day without a plan – conclusion
So no – don't start the day without a plan,  It works for successful secular people.  And it's a good thing for Christians who want to be successful as well.  Jesus was what we'd call an itinerant preacher, to some extent.  He did what some in secular management would call – management by walking around.  I used to do that when I was working.  It's a great way to really know what's happening.  Keep up with things.
It's good for Christians as well.  Just keep in mind, as Paul wrote, everything we do is for Christ.
Col 3:23 Whatever you do, work at it with all your heart, as working for the Lord, not for men, 24 since you know that you will receive an inheritance from the Lord as a reward. It is the Lord Christ you are serving. 25 Anyone who does wrong will be repaid for his wrong, and there is no favoritism.
Question – If we really care so much about our Christian beliefs, isn't that grounds for not only having a plan, but having Jesus in His rightful place in that plan?
---
Image by Alexas_Fotos from Pixabay