Screwtape Letter #30 – Questions is article #61 in the series: Screwtape Letters. Click button to view titles for entire series
Letter #30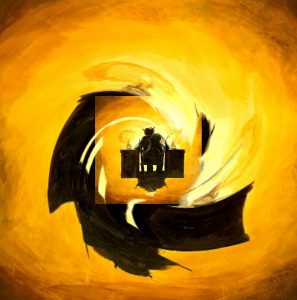 Wormwood is in trouble
– again.
---
My dear Wormwood,
I sometimes wonder whether you think you have been sent into the world for your own amusement. … At any rate, you will soon find that the justice of Hell is purely realistic, and concerned only with results. Bring us back food, or be food yourself.
30.1) Ouch!!
Compare this to what Jesus said to His disciples in Luke 21:12-19 –
Lk 21:12 "But before all this, they will lay hands on you and persecute you. They will deliver you to synagogues and prisons, and you will be brought before kings and governors, and all on account of my name. 13 This will result in your being witnesses to them. 14 But make up your mind not to worry beforehand how you will defend yourselves. 15 For I will give you words and wisdom that none of your adversaries will be able to resist or contradict. 16 You will be betrayed even by parents, brothers, relatives and friends, and they will put some of you to death. 17 All men will hate you because of me. 18 But not a hair of your head will perish. 19 By standing firm you will gain life.
Talk about the contrast between two things:
How Satan treats his devils versus how God treats His disciples (including us).
Who ultimately has the responsibility for taking care of their "disciples"?
The only constructive passage in your letter is where you say that you still expect good results from the patient's fatigue. That is well enough. But it won't fall into your hands. … Whatever he says, let his inner resolution be not to bear whatever comes to him, but to bear it 'for a reasonable period'—and let the reasonable period be shorter than the trial is likely to last. It need not be much shorter; in attacks on patience, chastity, and fortitude, the fun is to make the man yield just when (had he but known it) relief was almost in sight.
I do not know whether he is likely to meet the girl under conditions of strain or not. If he does, make full use of the fact that up to a certain point, fatigue makes women talk more and men talk less. Much secret resentment, even between lovers, can be raised from this.
30.2) When things get tough – who will the patient rely on?
All of these things that Screwtape is proposing to Wormwood depend on the patient not relying on God – but instead being influenced by Wormwood.
Talk about this in relation to the story below –
THE ROPE
The story tells about a mountain climber, who wanted to climb the highest mountain. He began his adventure after many years of preparation, but since he wanted the glory just for himself, he decided to climb the mountain alone.
The night felt heavy in the heights of the mountain, and the man could not see anything. All was black. Zero visibility, and the moon and the stars were covered by the clouds.
As he was climbing, only a few feet away from the top of the mountain, he slipped and fell into the air, falling at a great speed. The climber could only see black spots as he went down, and the terrible sensation of being sucked by gravity. He kept falling… and in those moments of great fear, it came to his mind all the good and bad episodes of his life.
He was thinking now about how close death was getting, when all of a sudden he felt the rope tied to his waist pull him very hard.
His body was still hanging in the air…Only the rope was holding him, and in that moment of stillness he had no other choice but to scream:
HELP ME GOD!
All of a sudden, a deep voice coming from the sky answered:
What do you want me to do?
-Save me God!
Do you really think I can save you?
– Of course I believe you can.
THEN CUT THE ROPE TIED TO YOUR WAIST…
There was a moment of silence: the man decided to hold on to the rope with all his strength.
The rescue team tells, that the next day a climber was found dead and frozen… his body hanging from a rope. His hands holding tight to it…
ONLY TEN FEET FROM THE GROUND.
and you? how attached are you to your rope?
Will you let go?
Don't ever doubt things from God. You never should say that He has forgotten or abandoned you. Don't ever think that he does not take care of you. Remember that He is always holding you with His right hand. Is 41:13
Isa 41:13 For I am the LORD, your God,
who takes hold of your right hand
and says to you, Do not fear;
I will help you.
Probably the scenes he is now witnessing will not provide material for an intellectual attack on his faith—your previous failures have put that out of your power. But there is a sort of attack on the emotions which can still be tried. … You will notice that we have got them completely fogged about the meaning of the word 'real'. … Either application of the word could be defended; but our business is to keep the two going at once so that the emotional value of the word 'real' can be placed now on one side of the account, now on the other, as it happens to suit us.
30.3) Can "real life" be a problem for the patient?
Talk about this in light of Matthew 4:1-11
and Hebrews 2:14-18 (part of a section in the NIV titles Jesus Made Like His Brothers)
Mt 4:1 Then Jesus was led by the Spirit into the desert to be tempted by the devil. 2 After fasting forty days and forty nights, he was hungry. 3 The tempter came to him and said, "If you are the Son of God, tell these stones to become bread."
Mt 4:4 Jesus answered, "It is written: 'Man does not live on bread alone, but on every word that comes from the mouth of God.''"
Mt 4:5 Then the devil took him to the holy city and had him stand on the highest point of the temple. 6 "If you are the Son of God," he said, "throw yourself down. For it is written:
" 'He will command his angels concerning you,
and they will lift you up in their hands,
so that you will not strike your foot against a stone.''"
Mt 4:7 Jesus answered him, "It is also written: 'Do not put the Lord your God to the test.''"
Mt 4:8 Again, the devil took him to a very high mountain and showed him all the kingdoms of the world and their splendor. 9 "All this I will give you," he said, "if you will bow down and worship me."
Mt 4:10 Jesus said to him, "Away from me, Satan! For it is written: 'Worship the Lord your God, and serve him only.''"
Mt 4:11 Then the devil left him, and angels came and attended him.
Heb 2:13 …
And again he says,
"Here am I, and the children God has given me."
Heb 2:14 Since the children have flesh and blood, he too shared in their humanity so that by his death he might destroy him who holds the power of death—that is, the devil— 15 and free those who all their lives were held in slavery by their fear of death. 16 For surely it is not angels he helps, but Abraham's descendants. 17 For this reason he had to be made like his brothers in every way, in order that he might become a merciful and faithful high priest in service to God, and that he might make atonement for the sins of the people. 18 Because he himself suffered when he was tempted, he is able to help those who are being tempted
The general rule which we have now pretty well established among them is that in all experiences which can make them happier or better only the physical facts are 'real' while the spiritual elements are 'subjective'; … Your patient, properly handled, will have no difficulty in regarding his emotion at the sight of human entrails as a revelation of Reality and his emotion at the sight of happy children or fair weather as mere sentiment,
Your affectionate uncle
SCREWTAPE
30.4) Screwtape wants the patient to pay for the cake, but not eat it.
Eating the cake and having it too. A little background on the saying –
The phrase's earliest recording is from 1546 as "wolde you bothe eate your cake, and have your cake?" (John Heywood's "A dialogue Conteinyng the Nomber in Effect of All the Prouerbes in the Englishe Tongue").[1] This phrase alludes to the impossibility of eating your cake and still having it afterwards.
Question – is it really impossible to eat your cake and have it too?
What if the item under consideration is not a cake – but the body and blood of Jesus?
What does that do to Screwtape's logic in the paragraph above?
Vocabulary:
None.