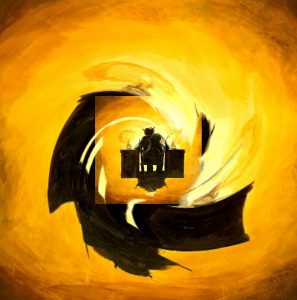 I was going through some of the Screwtape Letters study guides on the net for this book. We tried to use them in a small group at church. We found that they were maybe too structured – didn't leave enough room to really consider life – our lives – the things actually happening – and how to relate them to both the Bible and to the things that encounter every day.
That's the goal here – to provide a more open set of questions. This is the way our group ended up going – with more open ended questions to think about and discuss.  For those times when it's difficult to get a discussion started for any given question, I've also included some possible "answers" to get things going.
Not to say this is the only way – or even the best way – to study this book. It just seemed to work for us. No matter how you do it – it will tell us all a lot about the say Satan works in the world – and how God is always there to help us and save us – if we want Him to.
It can also be used by an individual.  I believe having more people gives a wider variety of points of view.  Different things any one of us might not have considered.  Although the suggested "answers" help in that regard, people in our group did come up with other thoughts as well.
In The Screwtape Letters, C. S. Lewis provides a series of lessons in the importance of taking a deliberate role in Christian faith by portraying a typical human life, with all its temptations and failings, seen from devils' viewpoints. Screwtape holds an administrative post in the bureaucracy ("Lowerarchy") of Hell, and acts as a mentor to his nephew Wormwood, an inexperienced (and incompetent) tempter. In the thirty-one letters which constitute the book, Screwtape gives Wormwood detailed advice on various methods of undermining faith and of promoting sin in "the Patient", interspersed with observations on human nature and on Christian doctrine. In Screwtape's advice, selfish gain and power are seen as the only good, and neither demon can comprehend God's love for man or acknowledge human virtue.  [1]//en.wikipedia.org/wiki/The_Screwtape_Letters
The Screwtape Letters
What Is The Screwtape Letters About?
How Do I Use This Study Guide?
Wow – Clive Staples Lewis.
This must be hard.
Well – let's say it's not exactly easy.
But – it is important.
So here's what's happening at the top of this screen. We've got Screwtape up there in the top left corner. We've got one of us in the top right corner.And we have our plans – directions – where we want to go in the middle. Who's going to influence them? Screwtape – or God?
That's up to us – that little thing called free will.
If you don't know much (or anything) about the book – you'll want to check this part out first.
It was written back in the 1940's – in England – so some of the language is no longer in use.
Where it gets really interesting though – it's written by an experienced devil (Screwtape) to his nephew (Wormwood) who he is mentoring as he works on his first patient after getting out of training. This part describes more about the book – and how to read it.
There's a lot of material to present here – so I'm going to try to arrange it in a useful way. Part of that will involve color coding the text – as well as different fonts and using italics.
The page on how to use the study guide includes the following topics –
Determining the context of what you will read
Study methodology
Can I study in a group of one?
---
Letter #1
And so it begins, but notice that it's not at the beginning. Screwtape is responding to a letter that Wormwood wrote – but we don't get to read. In fact – we never get to read what Wormwood writes – much as we never really get to "hear" what Satan "says" to us.
Letter #2
Things sounded rather well – for Screwtape and Wormwood at the end of the first letter. Letter #2 doesn't start quite so well. Not well at all – from their point of view.
Letter #3
Screwtape is on a roll again – full of advice for his nephew on how to affect his patient.Let's see just how good the tactics might be.
Letter #4
Screwtape is unhappy – about prayer
and about blame.
---
Letter #5
Screwtape is unhappy –
again –
this time about Wormwood.
Letter #6
Screwtape recognizes that the greatest fear we humans have is fear.
Letter #7
Screwtape starts to outline a plan of action.
---
Letter #8
The "Law of Undulation". Screwtape writes about the peaks and troughs in our lives – and how to exploit them.
Letter #9
The "Law of Undulation" continued. In the advanced trough lesson – Screwtape has even better ways to exploit them (us).
---
Letter #10
Screwtape talks about "friends".  Not the TV show – the real people in our lives.
Letter #11
Screwtape talks about "friends" in the previous letter.  Now, it's back to the patient himself.
Letter #12
Is there such a things as things going too well?
---
Letter #13
The previous letter asks if things can go too well.
We're about to find out.
Letter #14
This is the first letter after the patient's second conversion.  Things don't appear to be getting any better from Screwtape's point of view.
Letter #15
Circumstances present a fork in the road – it's time to make decisions about how to proceed.
Letter #16
Things may be getting even worse for Wormwood (in spite of or because of Screwtape's help?)
---
Letter #17
Screwtape's recommended attacks on the patient take a dramatic turn here.
Letter #18
Screwtape is now going to get into marriage – no doubt to corrupt it.
Letter #19
Screwtape seems to be losing it again.
Letter #21
Screwtape's going to change directions now.
---
Letter #22
Things must not be going so well for little Wormwood.   Maybe they were a little rough for Screwtape too?
Letter #23
Time for Wormwood to take practice to reality.
Letter #24
Uh Oh – is pride rearing its head?
Letter #26
Unselfishness is like being charitable – or is it?
---
Letter #27
Wormwood seems to be having some difficulties keeping his patient distracted and hiding the truth from him.
Letter #28
Screwtape wants the patient to live?
Letter #29
Screwtape's logic now begins to reveal much about us.
Letter #31
Uh oh – Wormwood is in really big trouble.
Congratulations!
You are all done!
I'd really like to hear from you – what you thought about the class – any suggestions / comments.
---