Where is God in the Coronavirus / Covid-19 Virus / whatever you call it? The first place to look is in the mirror. Whether you're Christian or not, look in the mirror. You can learn something from what you see.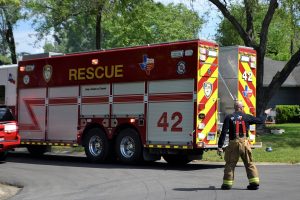 I read something interesting this morning too. It's from Los Angeles Mayor Eric Garcetti.
Garcetti compared the current crisis to past challenges such as earthquakes, riots and fires. But now more so than in the past, he said, every resident of the city has a responsibility to take action.
"We are all first responders. This isn't just someone else's responsibility, but it is the responsibility of each one of us. Your actions matter and they can and will save lives."
Before we get into what all this means, let's add one more thing. There are various versions of The Drowning Man around, but you'll get the idea.
The Drowning Man
A fellow was stuck on his rooftop in a flood. He was praying to God for help.
Soon a man in a rowboat came by and the fellow shouted to the man on the roof, "Jump in, I can save you."
The stranded fellow shouted back, "No, it's OK, I'm praying to God and he is going to save me."
So the rowboat went on.
Then a motorboat came by. "The fellow in the motorboat shouted, "Jump in, I can save you."
To this the stranded man said, "No thanks, I'm praying to God and he is going to save me. I have faith."
So the motorboat went on.
Then a helicopter came by and the pilot shouted down, "Grab this rope and I will lift you to safety."
To this the stranded man again replied, "No thanks, I'm praying to God and he is going to save me. I have faith."
So the helicopter reluctantly flew away.
Soon the water rose above the rooftop and the man drowned. He went to Heaven. He finally got his chance to discuss this whole situation with God, at which point he exclaimed, "I had faith in you but you didn't save me, you let me drown. I don't understand why!"
To this God replied, "I sent you a rowboat and a motorboat and a helicopter, what more did you expect?"
The common theme in all of this is, of course, first responders. And as The Drowning Man points out, guess who God's first responders are? One of them is that person you see in the mirror. Or, as Eric Garcetti pointed out – every resident of the city. And not only of Los Angeles, but also the city I live in, the city or town you live in, and everyone in every city or town. Including the people with rowboats, motorboats and helicopters. What more (else) did you expect?
The Coronavirus
Unless you've been living totally away from everything and everyone, you know about the Covid-19 Coronavirus. But then, anyone doing that won't be reading this. So – you know about the virus. And you know that with community spread, anyone can catch it. It seems impossible to avoid all contact with anyone.
Simple things like food could be an issue. Unless you grow literally everything you need, it has to come from somewhere. Other people are involved. And then there's the more complicated issues. For instance, we haven't had heat for about three weeks. It's cold and raining here. Supposed to get down to the high 30's tonight.
The parts to do the repairs finally came in. Various people were involved in that happening. Now there are two guys here actually doing the repairs. It's expected to take two days. You do what you can.
And then there's Donnie – our little dog. He's used to at least two or three walks every day. Lot's of people in our area have dogs. People can practice "social distancing". Dogs? They don't understand. And mail gets delivered. Even the packages that get delivered because we ordered online to stay away from stores get delivered. Touched by who knows how many people along the way. So we wipe them down with sanitized wipes before doing anything else with them.
And then there's the people we know in the various at-risk groups. That includes me, but still – if they need anything that we can help with, we want to do that.
Where is God in the Coronavirus?
So after all that, where is God in this Coronavirus pandemic? As I said earlier, to find God, start by looking in the mirror.
I know some of you aren't so interested in the details of how I reach my conclusion. You want to know what it is. I'll point you to it. Hopefully, after you've read it you'll want to come back and read those details. However, since I'm hoping some (many) will want to see the details and don't like to skip to the ending, the conclusion is at the end. Here's a link to it – the conclusion. I'll also put another link at the very end to bring you back here so you can read this part too.
Then consider the passage below.
Mt 6:1 "Be careful not to do your 'acts of righteousness' before men, to be seen by them. If you do, you will have no reward from your Father in heaven.
Mt 6:2 "So when you give to the needy, do not announce it with trumpets, as the hypocrites do in the synagogues and on the streets, to be honored by men. I tell you the truth, they have received their reward in full. 3 But when you give to the needy, do not let your left hand know what your right hand is doing, 4 so that your giving may be in secret. Then your Father, who sees what is done in secret, will reward you."
I have just a couple things to point out first. First, some of you reading this probably aren't Christian. And maybe you're thinking this doesn't apply to you. I urge you to keep reading. The other thing is about "give to the needy". It sounds like it's about giving money to poor people. And it is. But it's also about so much more.
Let's start with the "so much more part".
How does
give to the needy

apply to God and the Coronavirus?

We'll get into the culture of the time in a moment, but let's start by looking at just the words. When we read give to the needy, it actually comes from two Greek words.

The first Greek word in give to the needy

4160 ποιέω [poieo /poy·eh·o/] v. Apparently a prolonged form of an obsolete primary; TDNT 6:458; TDNTA 895; GK 4472; 579 occurrences; AV translates as "do" 357 times, "make" 113 times, "bring forth" 14 times, "commit" nine times, "cause" nine times, "work" eight times, "show" five times, "bear" four times, "keep" four times, "fulfil" three times, "deal" twice, "perform" twice, not translated three times, translated miscellaneously 43 times, and "vr do" three times. 1 to make. 1A with the names of things made, to produce, construct, form, fashion, etc. 1B to be the authors of, the cause. 1C to make ready, to prepare. 1D to produce, bear, shoot forth. 1E to acquire, to provide a thing for one's self. 1F to make a thing out of something. 1G to (make i.e.) render one anything. 1G1 to (make i.e.) constitute or appoint one anything, to appoint or ordain one that. 1G2 to (make i.e.) declare one anything. 1H to put one forth, to lead him out. 1I to make one do something. 1I1 cause one to. 1J to be the authors of a thing (to cause, bring about). 2 to do. 2A to act rightly, do well. 2A1 to carry out, to execute. 2B to do a thing unto one. 2B1 to do to one. 2C with designation of time: to pass, spend. 2D to celebrate, keep. 2D1 to make ready, and so at the same time to institute, the celebration of the passover. 2E to perform: to a promise. Additional Information: For synonyms see entry 4238, prasso.See entry 5871 for comparison of synonyms. [1]Strong, J. (1995). Enhanced Strong's Lexicon. Woodside Bible Fellowship.

Look at some of the words in there: do, make, commit, work, fulfill, perform, produce, act rightly, carry out, make ready, Etc. Interesting that the word "giving" isn't even there. In fact, these are words that show some kind of action. Doing something, as we can see from produce, construct, form, Etc.

The second Greek word in give to the needy

1654 ἐλεημοσύνη [eleemosune /el·eh·ay·mos·oo·nay/] n f. From 1656; TDNT 2:485; TDNTA 222; GK 1797; 14 occurrences; AV translates as "alms" 13 times, and "almsdeeds" once. 1 mercy, pity. 1A esp. as exhibited in giving alms, charity. 2 the benefaction itself, a donation to the poor, alms. [2]Strong, J. (1995). Enhanced Strong's Lexicon. Woodside Bible Fellowship.

We do see the word giving in this one.

So we have a combination of doing and giving. If you're a regular reader here, the doing part shouldn't be a surprise. If anything, you're expecting it. Even going back to what does John 3:16 really mean, it's about doing.

Jn 3:16 "For God so loved the world that he gave his one and only Son, that whoever believes in him shall not perish but have eternal life. 17 For God did not send his Son into the world to condemn the world, but to save the world through him. 18 Whoever believes in him is not condemned, but whoever does not believe stands condemned already because he has not believed in the name of God's one and only Son. 19 This is the verdict: Light has come into the world, but men loved darkness instead of light because their deeds were evil. 20 Everyone who does evil hates the light, and will not come into the light for fear that his deeds will be exposed. 21 But whoever lives by the truth comes into the light, so that it may be seen plainly that what he has done has been done through God."

We read that, and we think believes in him means a state of mind where we believe – just as we believe 2+2=4. But to the people in Jesus' time, it was believe so strongly in their hearts, as well as their minds, that action comes as a result of that belief. If you'd like to read more on that concept, please see Are we supposed to Believe God, Believe in God or Follow God?

The point is – giving to the needy, as so many things in the Bible, involves doing something. Just as God's love for us includes actions to take care of us, our love for others should involve actions to care for them.
So – Where is God in the Coronavirus?
Given everything we've looked at, where is God in this Covid-19 Coronavirus? As I said, look in the mirror.
Finding God in the Coronavirus if you're Christian
Hopefully, Christian readers recognized most, if not all of what I've written. It's about the Holy Spirit in you. One of my favorite passages in the Bible, going back to when I was in grade school, is the one below. It expresses what I'm trying to get across – what you feel and why.
Jn 14:15 "If you love me, you will obey what I command.
There's a condition here. If we love Jesus. It's easy to say, "I love Jesus". Just like it's easy to say the words, "I believe in Jesus". It's going to a whole other level to actually carry out actions based on those words. It's not an instant change, at least not for most of us. It's a growth process. I invite you to check out Pop Tart Christians for more on that. As we mature, the desire to act on our beliefs will increase. If it doesn't, we need to take a serious look at ourselves. Do we really believe in our hearts that we love Jesus – or are we just saying the words?
16 And I will ask the Father, and he will give you another Counselor to be with you forever— 17 the Spirit of truth. The world cannot accept him, because it neither sees him nor knows him. But you know him, for he lives with you and will be in you. 18 I will not leave you as orphans; I will come to you. 19 Before long, the world will not see me anymore, but you will see me. Because I live, you also will live. 20 On that day you will realize that I am in my Father, and you are in me, and I am in you. 21 Whoever has my commands and obeys them, he is the one who loves me. He who loves me will be loved by my Father, and I too will love him and show myself to him."
So we have the Holy Spirit in us from the time we're baptized – in the name of the Father, the Son and the Holy Spirit. Again though – it's a process to allow the Holy Spirit to penetrate through our own selfish desires. For more on that, please see Blessed are the poor in spirit.
Jn 14:22 Then Judas (not Judas Iscariot) said, "But, Lord, why do you intend to show yourself to us and not to the world?"
Jn 14:23 Jesus replied, "If anyone loves me, he will obey my teaching. My Father will love him, and we will come to him and make our home with him. 24 He who does not love me will not obey my teaching. These words you hear are not my own; they belong to the Father who sent me.
Jesus makes things very clear here. Whether or not we obey Jesus, both in our actions and in our hearts, is directly related to whether or not we love Him with our hearts.
Jn 14:25 "All this I have spoken while still with you. 26 But the Counselor, the Holy Spirit, whom the Father will send in my name, will teach you all things and will remind you of everything I have said to you. 27 Peace I leave with you; my peace I give you. I do not give to you as the world gives. Do not let your hearts be troubled and do not be afraid.
As we mature in our faith, the Holy Spirit, the mind of Christ as Paul calls Him, will remind us of the things Jesus taught. In order for us to even "hear" the reminders, let alone act on them, we must "listen". Give up or own desires. Die to self as Christians say. Allow the Holy Spirit to get through to us, as I pointed out earlier.
Jn 14:28 "You heard me say, 'I am going away and I am coming back to you.' If you loved me, you would be glad that I am going to the Father, for the Father is greater than I. 29 I have told you now before it happens, so that when it does happen you will believe. 30 I will not speak with you much longer, for the prince of this world is coming. He has no hold on me, 31 but the world must learn that I love the Father and that I do exactly what my Father has commanded me.
"Come now; let us leave."
One way for us to look at this passage today is this. When Jesus walked the earth, He could only communicate with those who were within hearing distance. A very limiting factor. However, after Jesus ascended back to Heaven, and we had the Holy Spirit, communication is now available to every Christian in the world. All at the same time. And each according to what we need.
Finding God in the Coronavirus if you're not Christian
OK – some of you may not want to hear this. But I urge you to read, and then honestly consider what follows.
Every good thing
There's a line from James that says: Every good and perfect gift is from above, coming down from the Father of the heavenly lights, who does not change like shifting shadows. I like reading James. He's so direct and gets right to the point. Every good thing comes from God.
Before we look at the full context of what James wrote, here's one more excerpt.
Eternity
This time from Solomon, the wisest man who ever lived. He has also set eternity in the hearts of men. Just in case, here's what the Hebrew word we read as eternity meant:
5769 עֹולָם [ʿowlam, ʿolam /o·lawm/] n m. From 5956; TWOT 1631a; GK 6409; 439 occurrences; AV translates as "ever" 272 times, "everlasting" 63 times, "old" 22 times, "perpetual" 22 times, "evermore" 15 times, "never" 13 times, "time" six times, "ancient" five times, "world" four times, "always" three times, "alway" twice, "long" twice, "more" twice, "never + 408" twice, and translated miscellaneously six times. 1 long duration, antiquity, futurity, for ever, ever, everlasting, evermore, perpetual, old, ancient, world. 1A ancient time, long time (of past). 1B (of future). 1B1 for ever, always. 1B2 continuous existence, perpetual. 1B3 everlasting, indefinite or unending future, eternity. [3]Strong, J. (1995). Enhanced Strong's Lexicon. Woodside Bible Fellowship.
While experts disagree as to the impact of what that means, one thing is pretty much agreed on. There's some sort of knowledge of God within each one of us. Obviously, it's not complete knowledge. But there's something in us. There's also the question of whether or not we choose to even acknowledge that something. To the extent we don't, we cannot know God. It's very much like allowing the Holy Spirit into our lives. It's a choice that we must make. Or choose not to. It's really up to us.
Conscience
And then there's our conscience. Our moral guide. Christian or not, most people have some sense of what's right and wrong. Not that we follow it at all times – no one does. But that innate sense of the difference between right and wrong is in us. Whether or not we choose to give God credit for it – that's also an issue. I believe the Bible tells us it is from Him. Not from the Old Testament promises, as in Jeremiah, like some claim. Those were, by and large, for His people. For the Israelites. That's not everyone alive.
However, go all the way back to Genesis.
Ge 1:26 Then God said, "Let us make man in our image, in our likeness, and let them rule over the fish of the sea and the birds of the air, over the livestock, over all the earth, and over all the creatures that move along the ground."
Ge 1:27 So God created man in his own image,
in the image of God he created him;
male and female he created them.
Before getting into what this means, I do want to say something about Adam and Eve, especially with the hope that non-Christians are still reading. Does this mean there were no human-like people before 5,000 years ago? I believe the nomenclature is Hominidae. No, I don't see why that has to be the case. There seems to be ample scientific evidence that other similar beings did exist before that. In fact, if we really look at what the Hebrew Scripture says, as opposed to our modern English translations, I think most people would be quite surprised. Evolution and Creation in the Bible are very much similar, but with one exception – who gets the credit. Evolution says it's all random. The Bible, obviously, says it's God. For more on that thought, please check out It's time for Christians to acknowledge what Darwin REALLY did.
So – my point is this. We were created in God's image. Not necessarily millions of years ago, as some other species within the family of Hominidae. But as the descendants of Adam and Eve. That's all of us alive today, and for the past several thousand years. We are made in God's image. Not exactly like Him. Not with His knowledge or with His sense of good and evil, right and wrong, and the like. But with some shadow of it. Our conscience. From God.
Every good thing + eternity + conscience
Now, let's put those three thoughts together.
We have a sense of eternity – something that's clearly impossible to attain in this life with the bodies we have. So there must be something else.
We have a conscience. From God. Not a perfect one. And we don't follow it all the time. But it's there, whether we choose to follow or ignore it.
So there are two things from God. Neither are something that comes with our physical bodies. It's spiritual. Just like God is Spirit. And if we allow even a little bit of that spiritual knowledge of God to come through, we can also begin to see that every good thing does indeed come from God.
Every good thing from God in the Coronavirus?
Yes. When we watch the news, there are all sorts of bad news items. The sickness. The death. Lives interrupted and ended. But when we can recognize that every good thing comes from God, we can also acknowledge that every bad thing comes from Satan. Please refer to Sanitized evil and If you don't believe in the devil, then … for more on that.
We have lots of people doing things that they wouldn't normally do. Hoarding food and supplies, making it difficult or impossible for others to get them. Buying guns, presumably for protection because they're afraid someone else is going to steal what they have. Things done out of fear.
The thing is, if we look beyond the bad news, we also see amazing things. People helping other people. Buying groceries for seniors or sick people. People just being friends with strangers to help keep them from being too lonely. There's a lot of good things happening out there in the midst of this virus.
The question is – where do those good intentions come from? I submit that they are from God. Just as fear is a weapon of Satan, peace and a desire to do "the right thing" come from God. Maybe we don't acknowledge that the desire to do something good comes from Him. But that doesn't make it any less true.
Earlier, I promised we'd look at the context from when James wrote Every good and perfect gift is from above, coming down from the Father of the heavenly lights, who does not change like shifting shadows. As you read it, consider that the good things you do are a perfect gift from God. That all those good things we all do are because of the conscience that God gave us. And because we don't fall prey to the fear of Satan. Even if you're not a Christian.
Jas 1:2 Consider it pure joy, my brothers, whenever you face trials of many kinds, 3 because you know that the testing of your faith develops perseverance.
First of all, for the Christian, this is exactly what it sounds like.
But for the non-Christian, what if it's a wake-up call from God? When bad things happen, and you want to do something good in the middle of those bad things, what if that's God trying to get your attention? Trying to wake up that knowledge He put in your spiritual side. Your conscience. Your concept of eternity – better things to come – and a desire to help others? After all, what's the difference between you doing good things, and your neighbor who hoards toilet paper?
4 Perseverance must finish its work so that you may be mature and complete, not lacking anything. 5 If any of you lacks wisdom, he should ask God, who gives generously to all without finding fault, and it will be given to him. 6 But when he asks, he must believe and not doubt, because he who doubts is like a wave of the sea, blown and tossed by the wind. 7 That man should not think he will receive anything from the Lord; 8 he is a double-minded man, unstable in all he does.
For the non-Christian, this isn't about finishing something. This is about resuming a work in progress. A process that began when eternity was planted in your soul – before you were born. And a process that included giving you your conscience. A beginning of sorts, rather than becoming more mature.
…
Jas 1:16 Don't be deceived, my dear brothers. 17 Every good and perfect gift is from above, coming down from the Father of the heavenly lights, who does not change like shifting shadows. 18 He chose to give us birth through the word of truth, that we might be a kind of firstfruits of all he created.
And there's the passage we started with. Every good and perfect gift is from above. And two of those gifts are our sense of eternity and our conscience. Two things we can live by – or that we can ignore. Or anywhere in between. But if we don't ignore them, then we have that desire to do the good things in the middle of the storm. To help people in the middle of the Coronavirus.
---
So – here's the conclusion I promised earlier.
Conclusion – Where is God in the Coronavirus
As we started with – look in the mirror. If you have the desire to do something good in the middle of this Coronavirus outbreak, or really any bad situation, something of God is in you. Truth is, there's something of God in you even if you do the wrong things in a disaster. The difference between the two is whether or not we choose to act according to the conscience that God gave each and every one of us.
Even if we're not Christian, not religious at all. we still have a conscience. As I said – we can choose to ignore it, but it's there. We can claim it's not from God. But that doesn't mean it's not from God. Even if you've totally had it with some people's way of being "Christian" or with some people's interpretation of the Bible, I believe that when we read it the way people in Jesus' time did – we'll have the same reaction they did.
Jesus offers something that no one else can. Peace in the middle of the disaster. Even good feelings in the middle of the disaster. If you've helped anybody at all with the current Coronavirus situation – you know what I mean. It's not a feeling of self-righteousness or pride. And it's not something we do because we want to have someone else owe us for our so-called good deed. It's that warm-inside feeling of knowing you did something good for another person. It's that desire God gave us. One that can be carried out on such a greater scale, a permanent scale, when we acknowledge that our desire to do good is one of those gifts from God.
Remember the story at the top? The people with the rowboat, the motorboat and the helicopter? Maybe they were Christian. But then maybe they weren't. But all were acting on their conscience. Risking their own lives in the middle of a disaster to help someone else. Acting on something God put in them.
So if you're Christian – you should get all of this.
But if you're not Christian, I pray that this wakes up something inside you.
And I close with something you hopefully want to hear. And that you'll act on.
Here I am! I stand at the door and knock. If anyone hears my voice and opens the door, I will come in and eat with him, and he with me.
---
If you jumped straight to the conclusion, you can return to where you left off by clicking here.
---
Image by F. Muhammad from Pixabay
---