Are most people good by nature?  That's one of the questions asked by LifeWay Research.  The answer was shocking.  Shocking to me, at least.  According to their survey, 66% of Americans say, "Everyone sins a little, but most people are good by nature."  Wow.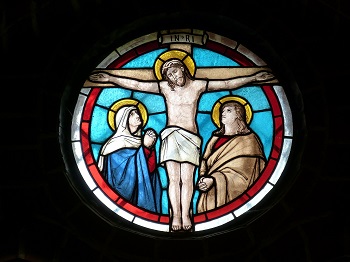 The percentage of Americans that claim to be Christian is down into the 70's at this time.  Whether that 66% is all from those "Christians" or not, we have no way to know.  Given the answers to some of the other questions, which will be examined later in this series, I'd say it really doesn't matter.
At best, the survey results seem to show that something less than 20% of those claiming to be Christian actually hold some of the most basic beliefs of Christianity.  Less than 20%!  Stay tuned to find out more.  You can subscribe to this site via the link towards the top right corner of the page.
Are most people good by nature?
Let's see what the Bible says about being "good".  Most Christians should recognize both of these passages.  I emphasize "should" because, according to the survey – a significant number of those claiming to be Christian did not gives answers to indicate that they would have agreed with one or both of them.
First:
Righteousness Through Faith
Ro 3:21 But now a righteousness from God, apart from law, has been made known, to which the Law and the Prophets testify. 22 This righteousness from God comes through faith in Jesus Christ to all who believe. There is no difference, 23 for all have sinned and fall short of the glory of God, 24 and are justified freely by his grace through the redemption that came by Christ Jesus. 25 God presented him as a sacrifice of atonement, through faith in his blood. He did this to demonstrate his justice, because in his forbearance he had left the sins committed beforehand unpunished— 26 he did it to demonstrate his justice at the present time, so as to be just and the one who justifies those who have faith in Jesus.
OK – it's Romans.  Lots of – too many – Christians probably don't even get very far with it, because it's "too hard" to understand.  Not that I'm saying it's a good excuse.  It isn't.  A life or death – as in the second life or death – situation should be worth the effort to find out what it means when Paul writes all have sinned and fall short of the glory of God. 
I mean, if we don't do something about that, it's the second death.  Part of the problem there, as we'll see in a later installment of this series, is that many Christians don't believe in Hell or eternal punishment.
Second:
The Rich Young Man
10:17-31 pp — Mt 19:16-30; Lk 18:18-30
Mk 10:17 As Jesus started on his way, a man ran up to him and fell on his knees before him. "Good teacher," he asked, "what must I do to inherit eternal life?"
Mk 10:18 "Why do you call me good?" Jesus answered. "No one is good—except God alone. 19 You know the commandments: 'Do not murder, do not commit adultery, do not steal, do not give false testimony, do not defraud, honor your father and mother.''"
This one is Jesus.  And it's quite clear.  Jesus is saying that no one is good, except God.  That's a far cry from most people are good by nature.  For a Christian, it's either not knowing what Jesus said, or it's not believing what Jesus said.  
Either way, it's something everyone who calls themselves a Christian should understand and believe.  You can use the links above to read the entire passage if you're not aware of it, but the end result is that the young man walks away from Jesus.  And he knows the consequences.  But He does it anyway.
Knowing what Jesus said, but not believing it or refusing to acknowledge it – that will lead us to the same place as the rich young man.
But these days, too many Christians seem to not know the consequences.  We'll see shortly, a surprising number don't even believe that Jesus is God.  They think Jesus was a created being.  
With beliefs like that, maybe it's not such a surprise that lots of Christians believe that all people are good by nature.
Are most people good by nature? — Related Survey Results
Is Jesus God?  Or was Jesus a created being?  That's an important question.  All, I repeat all, Christians must believe that Jesus is God.  If not, there is no basis for their belief in Christianity.  To go even further, not believing Jesus is God is completely at odds with what the Bible says.  Anyone who believes Jesus is a created being Is Not Christian.  There's just no other way to put it.
Jesus makes it clear that He is God
For example, as in this passage:
The Unbelief of the Jews
Jn 10:22 Then came the Feast of Dedication at Jerusalem. It was winter, 23 and Jesus was in the temple area walking in Solomon's Colonnade. 24 The Jews gathered around him, saying, "How long will you keep us in suspense? If you are the Christ, tell us plainly."
Jn 10:25 Jesus answered, "I did tell you, but you do not believe. The miracles I do in my Father's name speak for me, 26 but you do not believe because you are not my sheep. 27 My sheep listen to my voice; I know them, and they follow me. 28 I give them eternal life, and they shall never perish; no one can snatch them out of my hand. 29 My Father, who has given them to me, is greater than all; no one can snatch them out of my Father's hand. 30 I and the Father are one."
Jn 10:31 Again the Jews picked up stones to stone him, 32 but Jesus said to them, "I have shown you many great miracles from the Father. For which of these do you stone me?"
Jn 10:33 "We are not stoning you for any of these," replied the Jews, "but for blasphemy, because you, a mere man, claim to be God."
Jn 10:34 Jesus answered them, "Is it not written in your Law, 'I have said you are gods' ? 35 If he called them 'gods,' to whom the word of God came—and the Scripture cannot be broken— 36 what about the one whom the Father set apart as his very own and sent into the world? Why then do you accuse me of blasphemy because I said, 'I am God's Son'? 37 Do not believe me unless I do what my Father does. 38 But if I do it, even though you do not believe me, believe the miracles, that you may know and understand that the Father is in me, and I in the Father." 39 Again they tried to seize him, but he escaped their grasp.
Anyone who doesn't believe that Jesus is God is in the same position as the unbelieving Jews in the passage above.  In the end, judgment time, they will hear these words from Jesus – no matter how much they may claim to be Christian:
The Narrow Door
Lk 13:22 Then Jesus went through the towns and villages, teaching as he made his way to Jerusalem. 23 Someone asked him, "Lord, are only a few people going to be saved?"
He said to them, 24 "Make every effort to enter through the narrow door, because many, I tell you, will try to enter and will not be able to. 25 Once the owner of the house gets up and closes the door, you will stand outside knocking and pleading, 'Sir, open the door for us.'
"But he will answer, 'I don't know you or where you come from.'
Lk 13:26 "Then you will say, 'We ate and drank with you, and you taught in our streets.'
Lk 13:27 "But he will reply, 'I don't know you or where you come from. Away from me, all you evildoers!'
Lk 13:28 "There will be weeping there, and gnashing of teeth, when you see Abraham, Isaac and Jacob and all the prophets in the kingdom of God, but you yourselves thrown out. 29 People will come from east and west and north and south, and will take their places at the feast in the kingdom of God. 30 Indeed there are those who are last who will be first, and first who will be last."
Just in case it wasn't clear, Jesus will tell those who don't believe Him or really follow Him:
'I don't know you or where you come from. Away from me, all you evildoers!'
Jesus makes it clear that He is God – survey results
In spite of what we just read, here's what the survey showed.  People were asked, is Jesus is the first and greatest being created by God.  Now, if Jesus is God, then it's just not possible that God created Jesus.  However, the results included this:
Americans with Evangelical Beliefs are more likely to Agree than those without Evangelical Beliefs (78% v. 52%).
Let's make this clear.  78% of Evangelical Christians believe that Jesus is the first and greatest being created by God.  How is that possible?  
And let's consider that approximately 70+% of Americans that call themselves Christian.  42%, nearly half, agree that Jesus is the first and greatest being created by God.  Again, how can that be when something over 70% claim to be Christian.  Clearly, there's a disconnect between what the Bible says and what some claiming to be Christian believe.
News flash.  If you believe you're a Christian, and you agree that Jesus is the first and greatest being created by God, you need to go back and read the Bible.  Jesus is God.  Jesus is not a created being.  And no matter what – Adam was the first created being.
Based on this question, there are a lot of people who call themselves Christian who may very well be hearing, "I don't know you."  And it's not like this is advanced stuff.  It's at the very core of Christianity.
Are most people good by nature? – what the results mean.
There are various reasons why people may get this one so wrong – thinking that Jesus somehow isn't God.  
It's possible they just misunderstood what they heard.
Wrong teaching – saying that Jesus isn't God.
However, it's also possible that people really do hear wrong teaching.  
There are too many people who want to try to say that all roads lead to the same God.  That no matter the religion, whatever the belief is, it leads to God.  People like Rob Bell – in his book Love Wins.  Or people that just want everyone to get along – to "coexist".  Even some who are just after money.
Paul wrote about some of that:
Love of Money
1Ti 6:3 If anyone teaches false doctrines and does not agree to the sound instruction of our Lord Jesus Christ and to godly teaching, 4 he is conceited and understands nothing. He has an unhealthy interest in controversies and quarrels about words that result in envy, strife, malicious talk, evil suspicions 5 and constant friction between men of corrupt mind, who have been robbed of the truth and who think that godliness is a means to financial gain.
1Ti 6:6 But godliness with contentment is great gain. 7 For we brought nothing into the world, and we can take nothing out of it. 8 But if we have food and clothing, we will be content with that. 9 People who want to get rich fall into temptation and a trap and into many foolish and harmful desires that plunge men into ruin and destruction. 10 For the love of money is a root of all kinds of evil. Some people, eager for money, have wandered from the faith and pierced themselves with many griefs.
No matter the reason for someone teaching false information, it is possible to be able to identify it.  The problem with that, of course, is that it takes time and effort.  It's not just sit and listen to someone who sounds good.  Nor is it listening to friends.  Or whoever friends listen to.
Are most people good by nature? Conclusion
But it is the only way for this to happen:
Jn 10:14 "I am the good shepherd; I know my sheep and my sheep know me— 15 just as the Father knows me and I know the Father—and I lay down my life for the sheep. 16 I have other sheep that are not of this sheep pen. I must bring them also. They too will listen to my voice, and there shall be one flock and one shepherd. 17 The reason my Father loves me is that I lay down my life—only to take it up again. 18 No one takes it from me, but I lay it down of my own accord. I have authority to lay it down and authority to take it up again. This command I received from my Father."
And in the process of learning Jesus' voice – we also learn that He is God.
And also in the process, we learn that Jesus said that not only are most people not good by nature – but that no one is good, except God.