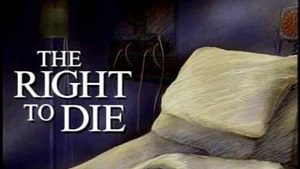 The Right to die.  A euphemism.  At best – a claimed right to commit suicide.  At worst – legalized murder.  And where does this "right" come from?
Let's look deeper into this issue.  As one who has tried to commit suicide – and obviously failed – it's something I've examined before.  As one with a mother who was very upset at having been revived (my father convinced a doctor to ignore a do not resuscitate order) – it's something I've examined before.
Where did this "right to die" come from?
Earlier this year, I wrote a piece called Life, Liberty, and the pursuit of happiness. You're welcome to go back and read the whole thing, but here's a shorter look at this group of rights from the Declaration of Independence – with an eye to the alleged "right" to die.
Life
Claiming a "right to die" based on a "right to life" seems more than a little odd, right from the start. Claiming a right to life leads me to think that one would do everything possible to cling to that life – not terminate it earlier than would otherwise have been the case.
Yes – some claim this as a right to die "with dignity". I'll get more into the dignity side of it later – so hold your thoughts on that. However – that's not what this law is called. At best, something's misleading here by advertising it as one thing – claiming it means something else – and entirely leaving out the explicit statement that someone's life is ending early. This is really about claiming a right to end a life – not a right to life.
Liberty
Liberty is essentially about gaining freedom from something or someone that has control over you.
OK – I can admit that killing yourself is a way to escape the disease that has control over you. As I have seen first hand, it's also a way to escape the depression that has had control over me. But is it really even an escape? Let's face it – as I have done (more than once) – it's a way to get relief from that thing controlling us – but to what end? If successful, we are dead. We no longer exist on this earth.
Looking at an example from dictionary.com, we see an example of "at liberty" –
free to do or be as specified
If our goal was honestly to be free of something controlling us – whether disease, depression, something else –
then liberty should be something like
free to be healed / free to be happy & upbeat
But what we really have is
free to be dead
That takes is back to the very beginning – all we are is dead. Gone from this earth. We may have won the battle, but we lost the war. That's backwards.
pursuit of happiness
Again – we could claim that freedom from disease or depression would lead to happiness. And it would – if death wasn't a guaranteed outcome. All we have is the pursuit of death.
The source of "life, liberty, and the pursuit of happiness"
Of course, the real issue here with these claims of life, liberty, and the pursuit of happiness is this, from the Declaration of Independence
We hold these truths to be self-evident, that all men are created equal, that they are endowed by their Creator with certain unalienable Rights, that among these are Life, Liberty and the pursuit of Happiness
Endowed by their Creator
The Creator, of course, is God. If you believe in God, then what He has to say about these "rights" should be important to you. If you don't believe in God – then I have to ask – do / can you even believe that you have these "rights"?
For those that do believe in God, the issue comes to this prayer from Jesus, shortly before His arrest and Crucifixion –
Jn 17:13 "I am coming to you now, but I say these things while I am still in the world, so that they may have the full measure of my joy within them. 14 I have given them your word and the world has hated them, for they are not of the world any more than I am of the world. 15 My prayer is not that you take them out of the world but that you protect them from the evil one. 16 They are not of the world, even as I am not of it. 17 Sanctify them by the truth; your word is truth. 18 As you sent me into the world, I have sent them into the world. 19 For them I sanctify myself, that they too may be truly sanctified.
So Jesus is praying for us to be protected from the evil one.  Further, He specifically prays – My prayer is not that you take them out of the world.
This is a real problem.  It finally was for me, at least.  
How can I be taking my own life – claiming a right to die – claiming a right to be free from depression – my mother claiming a right to be free from being partially paralyzed – when Jesus says – My prayer is not that you take them out of the world but that you protect them from the evil one.
I now believe – and submit to you – that what we have is a right to life.  The life that God has for us.  And the "dignity" that we quietly claim, but don't want to actually say – has nothing to do with our physical condition – and everything to do with how we deal with that condition.  Jesus' prayer isn't to heal us in this life – but to protect us in this life so that we can live it with dignity, and proceed to the next life when we do die.
Had I succeeded in my earlier attempts to escape depression – you wouldn't be reading this now.  No one would have read anything I've ever written / published.  Because I wouldn't have written anything.  Some may be just fine with that, based on some comments I've received.  Others would hopefully be glad they've read something from me.  The point is – the dignity is how I deal with the depression – not how I escape from it.
The same is true for my mother.  She was incredibly upset at still being alive.  She wanted to be dead.  She wanted something that would end this life – so she wouldn't have to live the rest of it in a wheelchair.  She's still not thrilled with it.  But she's come a long way.  She has no control over the left side of her body, so she can't go anywhere on her own.  But I have a friend who's a caregiver – now her caregiver.  The two of them are now like sisters.  They go out to lunch two or three times a week.  They know all the wait staff at the local restaurants they go to.  The two of them are even reading the Bible together.  I told my mother a few years ago that God must have some purpose for her being alive.  More recently – I told her – maybe this friendship was the purpose.  Again – the dignity is not in her dying to avoid her condition – but it's all about how she deals with life in that condition.
Assisted Suicide – the doctor's role
So next – what if you're one of the people helping someone with their "right to die"?  Where does that assistance lead you?
Obviously, it puts you in the position of going against the wishes of Jesus, as pointed out in the previous section.  But is that really so bad?  After all – you're just doing what someone else wants.  The real problem – the real rebellion against God's wishes is on their part.
If you think that's true, then what about this –
Mt 5:21 "You have heard that it was said to the people long ago, 'Do not murder, and anyone who murders will be subject to judgment.' 22 But I tell you that anyone who is angry with his brother will be subject to judgment. Again, anyone who says to his brother, 'Raca,' is answerable to the Sanhedrin. But anyone who says, 'You fool!' will be in danger of the fire of hell.
For those who don't know – "Raca" is a term used in Jesus' time by Jews to tell someone they were worthless.
So we see anger is equivalent to murder.  And calling someone worthless could send one to Hell.
Question – if you are assisting someone in their suicide – are you not deciding / agreeing that their life is worthless?
Here in California, the law that's about to be passed calls for two doctors – who are supposed to heal and take an oath that includes a promise to abstain from doing harm.  The person claiming the right to die has to get approval from these two doctors.  In other words, these two doctors need to do the following –
decide that the person is better off dead – that the remainder of this person's life has no value and is worthless
do harm to that person's body – taking a likely imminent death and making it an immediate certainty.  Worse – if the person is a Christian, they are helping that person go against the will of God.  Even worse – if the person is not a believer, they are making sure that this person never will be a believer.  Once dead – the chance to turn to God for help / saving – it's gone.  Forever.  Irreparable  harm has been done to the person's soul – forever.
Assisted Suicide – the role of the person setting up the device
So maybe you're the person setting up the device the person will use to "do the act" – to kill themselves.
You haven't taken the oath that doctors have.  
But you are still doing harm.  You're still one of God's children doing harm to another of His children.
Lk 17:1 Jesus said to his disciples: "Things that cause people to sin are bound to come, but woe to that person through whom they come. 2 It would be better for him to be thrown into the sea with a millstone tied around his neck than for him to cause one of these little ones to sin. 3 So watch yourselves.
This is what Jesus thinks of those who would do harm to one of His "children".
Supporting the "right to die law"
OK – you only support this law – you aren't actually involved in the process.  Maybe you voted for it in the legislature.  Maybe you raised money for it.  Maybe you just support it.  You'd never see yourself actually doing this to yourself.  You just think it's OK for others to do it if they want to.  You think the verse from Luke 17 above doesn't apply to you.
Now – before I go on – I don't think we have the ability to legislate morality or to force people to follow God's ways.  He doesn't do that to us, so what right do we have to do it to each other.  He gives us free will.  We have the choice to follow Him or not.
After His death and Resurrection, Jesus said –
Mt 28:16 Then the eleven disciples went to Galilee, to the mountain where Jesus had told them to go. 17 When they saw him, they worshiped him; but some doubted. 18 Then Jesus came to them and said, "All authority in heaven and on earth has been given to me. 19 Therefore go and make disciples of all nations, baptizing them in the name of the Father and of the Son and of the Holy Spirit, 20 and teaching them to obey everything I have commanded you. And surely I am with you always, to the very end of the age."
Many people remember the part about 
make disciples of all nations, baptizing them in the name of the Father and of the Son and of the Holy Spirit
But let's not forget about this part –
teaching them to obey everything I have commanded you.
That's the part that tells us how to live our lives.  One way of teaching people His commands is to live them.  Supporting laws such as the "Right to die" – is certainly not living up to His commission for us to teach everyone His commands.  His prayer to the Father is certainly a very good indicator of how He wants us to live.  Supporting an environment that is 180 degrees opposed to His wishes is certainly not teaching other His wishes.  There's just no way around that.
So where does this "right" come from?
Let's get brutally honest here –
Ge 3:1 Now the serpent was more crafty than any of the wild animals the LORD God had made. He said to the woman, "Did God really say, 'You must not eat from any tree in the garden'?"
Ge 3:2 The woman said to the serpent, "We may eat fruit from the trees in the garden, 3 but God did say, 'You must not eat fruit from the tree that is in the middle of the garden, and you must not touch it, or you will die.' "
Ge 3:4 "You will not surely die," the serpent said to the woman. 5 "For God knows that when you eat of it your eyes will be opened, and you will be like God, knowing good and evil."
Remember this famous scene from Genesis – the beginning of the fall of man?  The one that destroyed our relationship with God?
Well – Satan hasn't stopped trying to make things even worse.  
All of the scenarios above where anyone is involved in any way in helping / supporting this alleged "right to die" – are being caught up in this lie.  
Support for things like this do very much put you in danger of dying.
The "targets" of this law will physically die in this life.
Proponents of this law, as Jesus said in Matthew 5:21, will be in danger of the fire of hell.
Proponents of this law may very well die in the sense that God talked about in Genesis – eternity in Hell.

Is this where you want to be?  
Conclusion
If your one of the supporters (of any type), the good news for you is that God is forgiving. 
Maybe it's more than a bit ironic, but as long as we're alive, we have a chance to be saved – no matter what we've done.
The sad part is that for those we've helped to take advantage of this alleged "right to die" – if they did this before becoming a believer – they have given up any hope of becoming saved.  They have in fact been condemned to the fire of Hell.  And anyone who supported this law is an enabler of this.  
What this means is that supporters of the law have the chance to do something that some the people they aided will never have.
If  you're in that position, I pray for you to get out of it as soon as possible.
"All authority in heaven and on earth has been given to me. 19 Therefore go and make disciples of all nations, baptizing them in the name of the Father and of the Son and of the Holy Spirit, 20 and teaching them to obey everything I have commanded you. And surely I am with you always, to the very end of the age."