Don't relentlessly collaborate.  It's the seventh in a series of traits for successful people in the secular world that we're looking at.  However, we're also seeing how these same traits can be applied to becoming a "successful" Christian.  Someone who not only has an idea what Christianity is really about, but who also lives it.  Finally, who also does the Great Commission and not what Dallas Willard calls the Great Omission.
Don't settle for less, #07: Don't relentlessly collaborate is article #9 in the series: Settling for less. Click button to view titles for entire series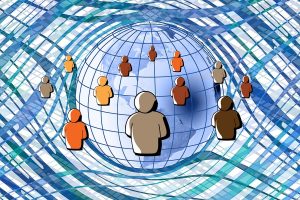 With that in mind, here's the seventh, from 23 Things Successful People Never Do on bestlifeonline.com:
As anyone who has ever done a group project can tell you, collaboration is not always easy.  But successful people tend to know when it's a better idea to go it alone, or bring other individuals into the fold.  Maybe a project is in its early stages, and you'd be better off tinkering with it before getting others involved – or maybe the people you'd loop in would only make you less productive.  The key to success is knowing the difference.
Don't relentlessly collaborate as a "thing" for successful people seems to be at odds with being a successful Christian.  After all, what about church?  Bible study?  Small groups?  Christian community?  Aren't those all important things for a Christian?  In fact, these Christian community meetings are so important, the author of Hebrews wrote about it in a passage the NIV titles A Call to Persevere.
Heb 10:19 Therefore, brothers, since we have confidence to enter the Most Holy Place by the blood of Jesus, 20 by a new and living way opened for us through the curtain, that is, his body, 21 and since we have a great priest over the house of God, 22 let us draw near to God with a sincere heart in full assurance of faith, having our hearts sprinkled to cleanse us from a guilty conscience and having our bodies washed with pure water. 23 Let us hold unswervingly to the hope we profess, for he who promised is faithful. 24 And let us consider how we may spur one another on toward love and good deeds. 25 Let us not give up meeting together, as some are in the habit of doing, but let us encourage one another—and all the more as you see the Day approaching. …
After bringing up things like drawing nearer to God, full assurance of faith, holding onto the Christian hope, and helping each other, the author writes:
Let us not give up meeting together, as some are in the habit of doing, but let us encourage one another.
So meeting with other Christians is important.  Collaboration.  According to dictionary.com, that means the act of working with another or others on a joint project.  In this case, the joint project is all of the things in that passage we just read.  In short, maintaining and growing Christian faith.
With that in mind, why would a Christian not want to relentlessly collaborate?  Isn't more better?  More people helping each other?  Keeping each other accountable and on that narrow path?
Don't relentlessly collaborate-
The key to success is knowing the difference
The last sentence from the excerpt is really important.  The key to success is knowing the difference.  The thing is, what's the deciding factor for choosing whether or not to collaborate?  The ideas for secular world collaboration are similar, in some ways, to what a Christian should look for.  But there are some specific things we're warned about in the Bible when it comes to "collaboration" – who to collaborate with.
For instance:
Mt 7:15 "Watch out for false prophets. They come to you in sheep's clothing, but inwardly they are ferocious wolves. 16 By their fruit you will recognize them. Do people pick grapes from thornbushes, or figs from thistles? 17 Likewise every good tree bears good fruit, but a bad tree bears bad fruit. 18 A good tree cannot bear bad fruit, and a bad tree cannot bear good fruit. 19 Every tree that does not bear good fruit is cut down and thrown into the fire. 20 Thus, by their fruit you will recognize them.
Mt 7:21 "Not everyone who says to me, 'Lord, Lord,' will enter the kingdom of heaven, but only he who does the will of my Father who is in heaven. 22 Many will say to me on that day, 'Lord, Lord, did we not prophesy in your name, and in your name drive out demons and perform many miracles?' 23 Then I will tell them plainly, 'I never knew you. Away from me, you evildoers!'"
Don't collaborate with
false prophets
You may be thinking, prophets are so Old Testament.  They don't exist anymore.  Well, except for maybe someone who comes along and predicts the world is going to end on whatever day they happen to announce.  We tend to think of prophets as people who predict the future.  However, that's a relatively modern meaning for the word.  Modern compared to Biblical times.  To see what Jesus really meant, we have to look at what the word meant at that time.
PROPHET. The ordinary Hebrew word for prophet is nâbi, derived from a verb signifying "to bubble forth" like a fountain; hence the word means one who announces or pours forth the declarations of God. The English word comes from the Greek prophetes (προφητης), which signifies in classical Greek one who speaks for another, specially one who speaks for a god, and so interprets his will to man; hence its essential meaning is "an interpreter." The use of the word in its modern sense as "one who predicts" is post-classical. The larger sense of interpretation has not, however, been lost. In fact, the English word prophet has always been used in a larger and in a closer sense. The different meanings or shades of meanings in which the abstract noun is employed in Scripture have been drawn out by Locke as follows: "Prophecy comprehends three things: prediction; singing by the dictate of the Spirit; and understanding and explaining the mysterious, hidden sense of Scripture by an immediate illumination and motion of the Spirit."  [1]Smith, W. (1986). In Smith's Bible Dictionary. Nashville: Thomas Nelson.
As you can see, predicting the future is one of three things that were done by the prophets of the Bible.  The other two were singing by the dictate of the Spirit; and understanding and explaining the mysterious, hidden sense of Scripture by an immediate illumination and motion of the Spirit.  In other words, explaining the deeper meaning of Scripture.  That's something done today by what we'd call a teacher.
Do you think you'd want to collaborate with false prophets?  Or false teachers?
To continue that thought on false teachers, let's look at something Paul wrote.
1Ti 1:3 As I urged you when I went into Macedonia, stay there in Ephesus so that you may command certain men not to teach false doctrines any longer 4 nor to devote themselves to myths and endless genealogies. These promote controversies rather than God's work—which is by faith. 5 The goal of this command is love, which comes from a pure heart and a good conscience and a sincere faith. 6 Some have wandered away from these and turned to meaningless talk. 7 They want to be teachers of the law, but they do not know what they are talking about or what they so confidently affirm.
We really get a sense of why false teachers are a problem.  It's hard enough to live a Christian life.  When false teachers get into the mix, it can be easier to live life – but then it's not a Christian life.  In the next passage, Paul writes explicitly about how that can lead us away from our faith.
1Ti 1:8 We know that the law is good if one uses it properly. 9 We also know that law is made not for the righteous but for lawbreakers and rebels, the ungodly and sinful, the unholy and irreligious; for those who kill their fathers or mothers, for murderers, 10 for adulterers and perverts, for slave traders and liars and perjurers—and for whatever else is contrary to the sound doctrine 11 that conforms to the glorious gospel of the blessed God, which he entrusted to me.
1Ti 6:3 If anyone teaches false doctrines and does not agree to the sound instruction of our Lord Jesus Christ and to godly teaching, 4 he is conceited and understands nothing. He has an unhealthy interest in controversies and quarrels about words that result in envy, strife, malicious talk, evil suspicions 5 and constant friction between men of corrupt mind, who have been robbed of the truth and who think that godliness is a means to financial gain.
Paul lists more things that come from listening to and following false teachings.  Yes, it might sound like a more "fun" life.  An easier life.  But ultimately, it's a path to eternal destruction.
1Ti 6:6 But godliness with contentment is great gain. 7 For we brought nothing into the world, and we can take nothing out of it. 8 But if we have food and clothing, we will be content with that. 9 People who want to get rich fall into temptation and a trap and into many foolish and harmful desires that plunge men into ruin and destruction. 10 For the love of money is a root of all kinds of evil. Some people, eager for money, have wandered from the faith and pierced themselves with many griefs.
We should also pay attention to something that lots of people seem to remember incorrectly.  Paul wrote: For the love of money is a root of all kinds of evil.  He did not write "love of money is the root of all evil"!  There are other things besides the love of money that lead to evil.  The love of money can lead to lots of evil things, but so can the love of a whole lot of other worldly things that lead us away from our faith.
After getting more information about them, how do you feel now about whether collaborating with false prophets or false teachers?
How about just two more passages to tie the false prophet and false teacher concept together.  These are from Peter.  The first in a lead-in to the second, so I'm including both to give the full context.
2Pe 1:12 So I will always remind you of these things, even though you know them and are firmly established in the truth you now have. 13 I think it is right to refresh your memory as long as I live in the tent of this body, 14 because I know that I will soon put it aside, as our Lord Jesus Christ has made clear to me. 15 And I will make every effort to see that after my departure you will always be able to remember these things.
2Pe 1:16 We did not follow cleverly invented stories when we told you about the power and coming of our Lord Jesus Christ, but we were eyewitnesses of his majesty. 17 For he received honor and glory from God the Father when the voice came to him from the Majestic Glory, saying, "This is my Son, whom I love; with him I am well pleased." 18 We ourselves heard this voice that came from heaven when we were with him on the sacred mountain.
2Pe 1:19 And we have the word of the prophets made more certain, and you will do well to pay attention to it, as to a light shining in a dark place, until the day dawns and the morning star rises in your hearts. 20 Above all, you must understand that no prophecy of Scripture came about by the prophet's own interpretation. 21 For prophecy never had its origin in the will of man, but men spoke from God as they were carried along by the Holy Spirit.
This entire passage is Peter telling the recipients that he is not a false teacher.  Everything he said has been the truth.  Peter knows he's going to die soon, and wants to be sure everyone knows that what he taught came from the Holy Spirit, not from himself.  In other words, Peter's telling them that it's OK to collaborate with him.
2Pe 2:1 But there were also false prophets among the people, just as there will be false teachers among you. They will secretly introduce destructive heresies, even denying the sovereign Lord who bought them—bringing swift destruction on themselves. 2 Many will follow their shameful ways and will bring the way of truth into disrepute. 3 In their greed these teachers will exploit you with stories they have made up. Their condemnation has long been hanging over them, and their destruction has not been sleeping.
Notice that Peter wrote about the false prophets in the past – and the false teachers in the future.  Let's look at the two Greek words from which prophets and teachers come.
prophet:
4396 προφήτης [prophetes /prof·ay·tace/] n m. From a compound of 4253 and 5346; TDNT 6:781; TDNTA 952; GK 4737; 149 occurrences; AV translates as "prophet" 149 times. 1 in Greek writings, an interpreter of oracles or of other hidden things. 2 one who, moved by the Spirit of God and hence his organ or spokesman, solemnly declares to men what he has received by inspiration, especially concerning future events, and in particular such as relate to the cause and kingdom of God and to human salvation. 2A the OT prophets, having foretold the kingdom, deeds and death, of Jesus the Messiah. 2B of John the Baptist, the herald of Jesus the Messiah. 2C of the illustrious prophet, the Jews expected before the advent of the Messiah. 2D the Messiah. 2E of men filled with the Spirit of God, who by God's authority and command in words of weight pleads the cause of God and urges salvation of men. 2F of prophets that appeared in the apostolic age among Christians. 2F1 they are associated with the apostles. 2F2 they discerned and did what is best for the Christian cause, foretelling certain future events. (Acts 11:27). 2F3 in the religious assemblies of the Christians, they were moved by the Holy Spirit to speak, having power to instruct, comfort, encourage, rebuke, convict, and stimulate, their hearers. 3 a poet (because poets were believed to sing under divine inspiration). 3A of Epimenides (Tit. 1:12).  [2]Strong, J. (1995). Enhanced Strong's Lexicon. Woodside Bible Fellowship.
teacher:
1320 διδάσκαλος [didaskalos /did·as·kal·os/] n m. From 1321; TDNT 2:148; TDNTA 161; GK 1437; 58 occurrences; AV translates as "Master (Jesus)" 40 times, "teacher" 10 times, "master" seven times, and "doctor" once. 1 a teacher. 2 in the NT one who teaches concerning the things of God, and the duties of man. 1A one who is fitted to teach, or thinks himself so. 1B the teachers of the Jewish religion. 1C of those who by their great power as teachers draw crowds around them i.e. John the Baptist, Jesus. 1D by preeminence used of Jesus by himself, as one who showed men the way of salvation. 1E of the apostles, and of Paul. 1F of those who in the religious assemblies of the Christians, undertook the work of teaching, with the special assistance of the Holy Spirit. 1G of false teachers among Christians.  [3]Strong, J. (1995). Enhanced Strong's Lexicon. Woodside Bible Fellowship.
So even at that time, there seems to be a transition between using prophet for the Old Testament times and teacher for the New Testament times.  Ultimately though, there's a lot in common between the two when it comes to interpreting Scripture.
Either way, prophet or teacher, the importance of knowing whether what they say is true or false is still important when deciding whether or not to collaborate with them.
…
2Pe 2:17 These men are springs without water and mists driven by a storm. Blackest darkness is reserved for them. 18 For they mouth empty, boastful words and, by appealing to the lustful desires of sinful human nature, they entice people who are just escaping from those who live in error. 19 They promise them freedom, while they themselves are slaves of depravity—for a man is a slave to whatever has mastered him. 20 If they have escaped the corruption of the world by knowing our Lord and Savior Jesus Christ and are again entangled in it and overcome, they are worse off at the end than they were at the beginning. 21 It would have been better for them not to have known the way of righteousness, than to have known it and then to turn their backs on the sacred command that was passed on to them. 22 Of them the proverbs are true: "A dog returns to its vomit," and, "A sow that is washed goes back to her wallowing in the mud."
As mentioned earlier, ultimately the false teachers are headed for destruction.  The only question is, how many others will they take with them?
Conclusion – Don't relentlessly collaborate
Yes, be involved with other Christians.  However, be sure they are really trying to live the kind of life that Jesus taught us about.  Unlike the secular world where, as the article says, you may want to work alone, that's not a good idea in Christianity.  It's important to be rooted in what the Bible really teaches.  Not on a false idea.  For example, not on something like the so-called prosperity gospel, which is a weird and false mixture of Old and New Testament words, but doesn't correctly represent either of them.
Ultimately, for a Christian, the key to success is knowing the difference between someone who can help us lead the kind of life taught by Jesus and led by the Holy Spirit, and someone who leads a life taught from the ideas of man rather than God.
---
Image by Gerd Altmann from Pixabay
---