For Yours is … (everything)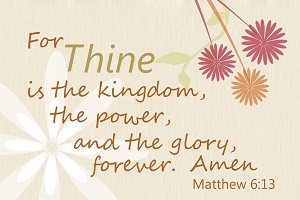 We now have –
The last verse –
and maybe the most difficult one –
of The Lord's Prayer –
For yours is the kingdom, and the power, and the glory, for ever. Amen.
What's so hard about praying this verse?
Plenty!!
---
For Yours is ... (everything) is article #10 in the series: The Lord's Prayer. Click button to view titles for entire series
---
So – how can this be so hard?
What's the problem with saying that the Kingdom, the Power and the Glory belong to God forever?
Well – let's go back to the title of this one.
For Thine is … (everything)
Yes – everything.
Time for an ego check.  In fact – time to put it away.  Forever.
Time to remove pride from our lives.  Forever.
Time to admit that he with no toys is the winner.  Forever.
Time to admit that everything we've ever accomplished wasn't because of us.  Forever.
That's hard.  Really hard.
Think about whether or not you could truly agree with what Paul wrote in Philippians 3:7-11 –
Phil 3:7 But whatever was to my profit I now consider loss for the sake of Christ. 8 What is more, I consider everything a loss compared to the surpassing greatness of knowing Christ Jesus my Lord, for whose sake I have lost all things. I consider them rubbish, that I may gain Christ 9 and be found in him, not having a righteousness of my own that comes from the law, but that which is through faith in Christ—the righteousness that comes from God and is by faith. 10 I want to know Christ and the power of his resurrection and the fellowship of sharing in his sufferings, becoming like him in his death, 11 and so, somehow, to attain to the resurrection from the dead.
Do you consider everything that you have done that wasn't for the sake of Christ to be rubbish?
Think about what that means for your accomplishments that you were so proud of up to now.
Can you really say that all those things you did for your own personal gain are now really a loss?
Is your goal really to learn about Jesus and to teach others about Jesus?
If you can honestly say yes to all these questions, then maybe you're ready to pray this verse.
If you think you're ready to pray this verse, now consider that the actual word Paul used at the time would be "politely translated" as "dung".  
The stuff that comes out of the back end of an animal.  
I don't mean to be crude – but I think it's important to realize exactly what Paul was saying –
and exactly how little the things we thought were so great really matter in the end.
Still think you're ready?
If not – ask yourself if you're really prepared for Heaven.
If not – how do you see yourself in light of these verses from Revelation –
Rev 19:7 Let us rejoice and be glad
and give him glory!
For the wedding of the Lamb has come,
and his bride has made herself ready.
Rev 19:8 Fine linen, bright and clean,
was given her to wear."
If not, are you really prepared for these verses, also from Revelation –
Rev 4:9 Whenever the living creatures give glory, honor and thanks to him who sits on the throne and who lives for ever and ever, 10 the twenty-four elders fall down before him who sits on the throne, and worship him who lives for ever and ever. They lay their crowns before the throne and say:
Rev 4:11 "You are worthy, our Lord and God,
to receive glory and honor and power,
for you created all things,
and by your will they were created
and have their being."
Are you ready for this?  Can you do this?
Paul writes about running the race – and getting the reward –
1Co 9:24 Do you not know that in a race all the runners run, but only one gets the prize? Run in such a way as to get the prize. 25 Everyone who competes in the games goes into strict training. They do it to get a crown that will not last; but we do it to get a crown that will last forever. 26 Therefore I do not run like a man running aimlessly; I do not fight like a man beating the air. 27 No, I beat my body and make it my slave so that after I have preached to others, I myself will not be disqualified for the prize.
Are you prepared to win that crown – and turn it over to the One who really deserves it?
And if that's not hard enough – Paul makes it even harder in his first letter to the Thessalonians –
1Th 2:17 But, brothers, when we were torn away from you for a short time (in person, not in thought), out of our intense longing we made every effort to see you. 18 For we wanted to come to you—certainly I, Paul, did, again and again—but Satan stopped us. 19 For what is our hope, our joy, or the crown in which we will glory in the presence of our Lord Jesus when he comes? Is it not you? 20 Indeed, you are our glory and joy.
Here, we see Paul talking about the crown being other people.  People who he has helped lead to believe in Jesus.
So it's not just about us.
It's about helping others.
So now we all need to also look at what we've done with the Great Commission –
Mt 28:18 Then Jesus came to them and said, "All authority in heaven and on earth has been given to me. 19 Therefore go and make disciples of all nations, baptizing them in the name of the Father and of the Son and of the Holy Spirit, 20 and teaching them to obey everything I have commanded you. And surely I am with you always, to the very end of the age."
Have you made yourself ready for all of this?
What else do you need to work on?
For me – I know I still have a long way to go.
But for part of this, I came to realize just how it feels to start to realize that so much of what I've accomplished so far really didn't have meaning.
Being in the IT field, I was very much involved in the technology – and not so much with people.
Being at a university, I was in a very liberal and increasingly anti-Christian environment.
In my last several years, being in management, I was in a position where I would have been fired for speaking some of my beliefs.
In the end, I did end up being forced out in large part for something I believed – that everyone should be treated fairly.  Oddly enough, it was very much related to supporting a woman – not because of her lifestyle – but because she was a very good worker.  I was supposed to get rid of her, because our boss didn't like her.  Instead, I requested multiple times to keep her on – and to change her temporary assignment to be permanent.  Well – that wasn't going to happen.  So shortly after her temp assignment ended – I was under attack for an event that took place 5 years earlier, where I did exactly what I was told to do – by the same person who was now trying to get rid of me.
One day while I was driving to work, I was praying for a way to save my job.  I got an incredibly clear message from God – "Leave the job.  Don't fight me on this.  Just go.  I have something better for you".  It was amazing.
So I retired.  Something I didn't even know I could afford to do at that point.
Now – I'm using my IT skills at church.
Now – I have much more time to learn about our amazing God.
Now – I have much more time to write.
Now – all of the stress – much more than I even realized – from the job is gone.
So I can honestly say that so much of what I thought I'd done while working was loss.  Because it didn't help me learn about God.
However – I also learned first hand that He really can take our loss and turn it into gain – for Him – As Paul wrote in his letter to the Romans –
He starts with what the NIV labels as "Future Glory" –
Future Glory
Ro 8:18 I consider that our present sufferings are not worth comparing with the glory that will be revealed in us. 19 The creation waits in eager expectation for the sons of God to be revealed. 20 For the creation was subjected to frustration, not by its own choice, but by the will of the one who subjected it, in hope 21 that the creation itself will be liberated from its bondage to decay and brought into the glorious freedom of the children of God.
Ro 8:22 We know that the whole creation has been groaning as in the pains of childbirth right up to the present time. 23 Not only so, but we ourselves, who have the firstfruits of the Spirit, groan inwardly as we wait eagerly for our adoption as sons, the redemption of our bodies. 24 For in this hope we were saved. But hope that is seen is no hope at all. Who hopes for what he already has? 25 But if we hope for what we do not yet have, we wait for it patiently.
Ro 8:26 In the same way, the Spirit helps us in our weakness. We do not know what we ought to pray for, but the Spirit himself intercedes for us with groans that words cannot express. 27 And he who searches our hearts knows the mind of the Spirit, because the Spirit intercedes for the saints in accordance with God's will.
 – where we see that things – including us – aren't the way they / we were meant to be.  Paul writes about hope – things not seen.  He writes about things that we do don't yet have – but which we wait for.  He writes about our weakness – but also about how the Holy Spirit will help us in that weakness.  All of that presumes that we actually want to know Jesus – that we believe in Him and believe Him.
And then we read –
Ro 8:28 And we know that in all things God works for the good of those who love him, who have been called according to his purpose.
where we see that  in all things God works for the good of those who love him.
No matter what we may have done – God will make it come out good – if we love Him.
And so all those things I'd been doing up to the time I retired – He's done something good with them.
When I first told the guys in my men's group at church that I was retiring – one of them told me I'd really miss working.  That I'd have a really hard time just quitting cold turkey.  Another one told me I'd have no problem – that I'd be so busy I wouldn't have any desire to go back to working.  After a very short time – the Senior Pastor told me that I was still working, but at a new address – that of the church.
Guess that tells you which of the first two was right.  It was the second one.  Because now – instead of working for a liberal university – I'm working for a Jewish Carpenter.  Instead of working to bring technology to people – I'm working to bring Jesus to people, using the technology to reach more people.
And for the first time in my life – I feel like I'm really doing something worthwhile.
Sure – before I thought I was doing good stuff.  I was doing really great stuff with the technology.  I was successful.
Now – I realize that the only reason I was doing great stuff was that He gave me a good brain.
Now – I remember that when things were tough – like problems that were really difficult to solve – I'd pray to Him for the answer.
Now – I realize that the highs of solving problems or getting new stuff delivered out to thousands of people was nothing compared to helping even one person get closer to Jesus.
Now – I see that all the stuff I'd been working at before was only to prepare me for what I'm doing now.  Not for a liberal university that turns people away from God – but to help people come to know God.
And now – I'm really beginning to realize just how true this statement from Jesus to Paul is –
2Co 12:7 To keep me from becoming conceited because of these surpassingly great revelations, there was given me a thorn in my flesh, a messenger of Satan, to torment me. 8 Three times I pleaded with the Lord to take it away from me. 9 But he said to me, "My grace is sufficient for you, for my power is made perfect in weakness." Therefore I will boast all the more gladly about my weaknesses, so that Christ's power may rest on me. 10 That is why, for Christ's sake, I delight in weaknesses, in insults, in hardships, in persecutions, in difficulties. For when I am weak, then I am strong.
A note about why this verse is not in some versions of the Bible
Some of you may have realized that this particular phrase isn't in the particular version of the Bible that you read.  It may not even be in the Lord's Prayer that your local church uses.  For me – we do say it in our church – but it's not in the NIV that I normally use.  Because of that, I had to do some research as to why the difference.
The following is derived from The King James Bible Page.
Matthew 6:13 – "For thine is the kingdom, and the power, and the glory, for ever."
The passage in question is the conclusion of what is commonly known as The Lord's Prayer. The prayer ends with the doxology, "For thine is the kingdom, and the power, and the glory, for ever. Amen." This phrase is found in the majority of Greek manuscripts, the Greek Textus Receptus and Majority Text, and is the reading of early English versions, the KJV, and the NKJV. It is not found in the main body of the Critical Text or most modern versions.
We see in the KJV, Matthew 6:9-13
Mt 6:9 Our Father which art in heaven, Hallowed be thy name. 10 Thy kingdom come. Thy will be done in earth, as it is in heaven. 11 Give us this day our daily bread. 12 And forgive us our debts, as we forgive our debtors. 13 And lead us not into temptation, but deliver us from evil: For thine is the kingdom, and the power, and the glory, for ever. Amen.
And in the KJV, Luke 11:2-4
Lk 11:2 And he said unto them, When ye pray, say,
Our Father which art in heaven, Hallowed be thy name. Thy kingdom come. Thy will be done, as in heaven, so in earth. 3 Give us day by day our daily bread. 4 And forgive us our sins; for we also forgive every one that is indebted to us. And lead us not into temptation; but deliver us from evil.
So the phrase –
For thine is the kingdom, and the power, and the glory, for ever. Amen.
is in Matthew, but not in Luke.
The possibility is raised that it was dropped from Matthew in order to make the two instances more similar.
However – there are other differences, so the point of removing this particular phrase isn't so clear to me.
Furthermore, the audience that Jesus was addressing was quite different for the Matthew and Luke statements.
In Matthew, we read this about the audience –
Matthew 5:1 And seeing the multitudes, he went up into a mountain: and when he was set, his disciples came unto him: 2 And he opened his mouth, and taught them, saying,
Yes – the start of this really is in Chapter 5, not 6.  It's the beginning of what's known as the Sermon on the Mount.
While in Luke, we read this about the audience –
Luke 11:1 And it came to pass, that, as he was praying in a certain place, when he ceased, one of his disciples said unto him, Lord, teach us to pray, as John also taught his disciples. 2 And he said unto them, When ye pray, say,
So the verses in Luke were directed specifically to the disciples, while the verses in Matthew were directed to the people in general.
The disciples would have already heard and learned much from being with Jesus on a regular basis.  The people hearing The Sermon On The Mount may very likely have been hearing Jesus for the very first time.  So the two "versions" of The Lord's Prayer being "different" is not really surprising.  That the version in Matthew is the one we should use is also not surprising.  In fact, it is the one upon which the generally used "Lord's Prayer" comes from.
Conclusion
As to why that particular phrase was dropped – one can only speculate.  As was done on The King James Bible Page.  As that was my source for the material above, it's what I've done here as well.
However – that this phrase is incredibly important – I think – is undeniable.
Everything I've written above shows how difficult this passage is for us.  Without God's help, we couldn't even begin to do this.
Given John's words in Revelation, this is something that we will literally be doing when we're in Heaven.  That we shouldn't be preparing ourselves for this is hard to fathom.
It's not like we'll actually accomplish this while we're here on earth.  But it's certainly something I think we should be working towards.
Certainly, it's not something we should be denying while we're here.  And it's not something we should say we'll never believe / do.
We say the prayer (some of us, at least).
We sing songs about this.
But do we really believe and live like –
For thine is the kingdom, and the power, and the glory, for ever. Amen.
---
image from praisequotes.com